How to:
throw a Mad Hatter themed Baby Shower
a Guest Post by Rachel Brooks of 5 o' clock Sunday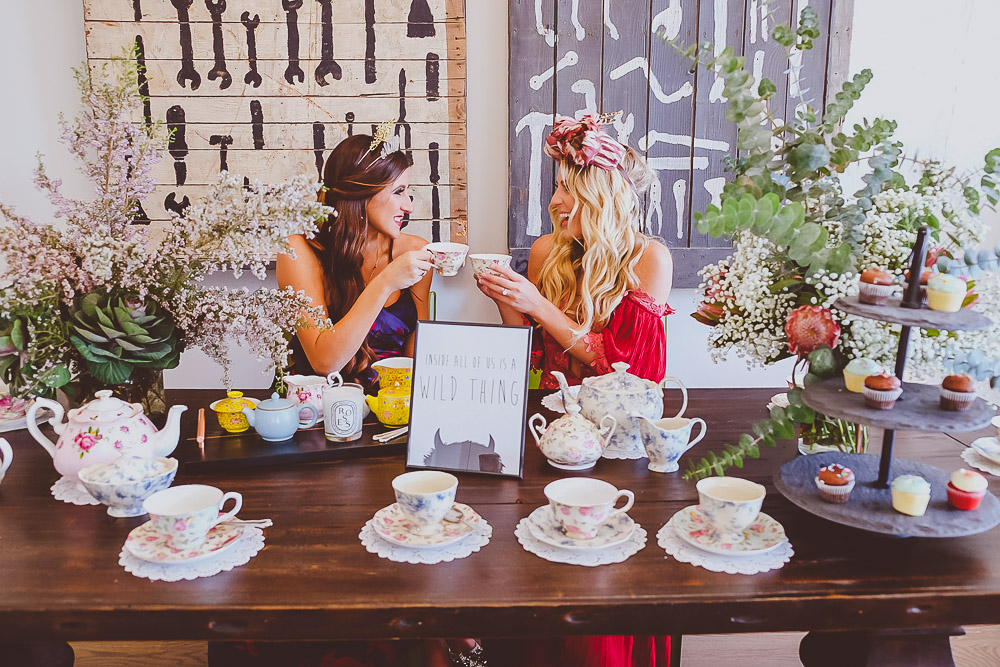 Hello Everyone! I'm Rachel Brooks, a.k.a. Chantelle's partner in crime and the woman behind the camera most days at Bridge to Bohemia. Chantelle and I decided to try something a little different for this feature and have me step in to write about the wonderful experience that was my baby shower for my future daughter, Miss Lennon Leigh – a little lady who is due to make her appearance any day now! As I sit here reflecting on this day, I'm filled with so much appreciation for not only my friendship with Chantelle, but also her talent and creativity in putting together this day with my amazing little sister Melissa Leigh. I'm so lucky to have ladies in my life that went the extra mile to create a magical little wonderland for Lennon's special day. That said, I've broken down our day for you and the steps you can take to recreate a Mad Hatter tea party theme for yourself, your child, or some special lady you love.
---
1. Decor + Special Touches
In my opinion, the key to pulling of this theme is absolutely in the visual and personal details. Chantelle and Melissa (my sister) spent so much time and care in executing this theme. Luckily, they had a beautifully decorated home to utilize as our venue and all that left them with was how to transform this space in a little bit crazy, little bit whimsical tea party setting. Bring in an array of flowers, porcelain, and handmade animal masks and we felt like were truly sailing away into the shores of a children's storybook.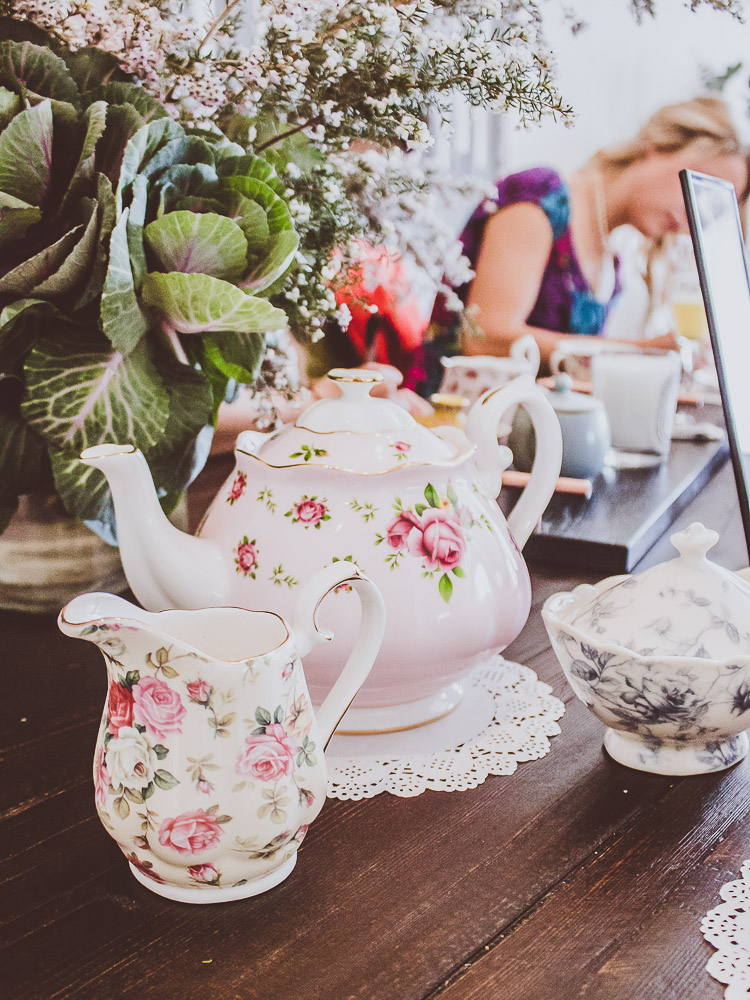 Those Masks
I still can't get these headpieces off of my mind. When I first told Chantelle my theme idea, I pulled up a picture of these exact masks and said, "…. and then, what if everyone was wearing tea dresses but with these insane animal masks?" Never in my wildest dreams did I think they'd show up on our doorstep. The artist, Curious Fair, that creates these is from the UK and each mask is a one-of-a-kind creation. The detail and intricacy is unparalleled and that is coming from someone who spent a full semester in a sculptural hat making class. Let's just say that my work didn't turn out quite this good. Each mask is made entirely of feathers and we loved these whimsical creatures so much that we shot a mini bridal editorial with them (stay tuned for more to come on that). Check out more of work from Curious Fair on Etsy.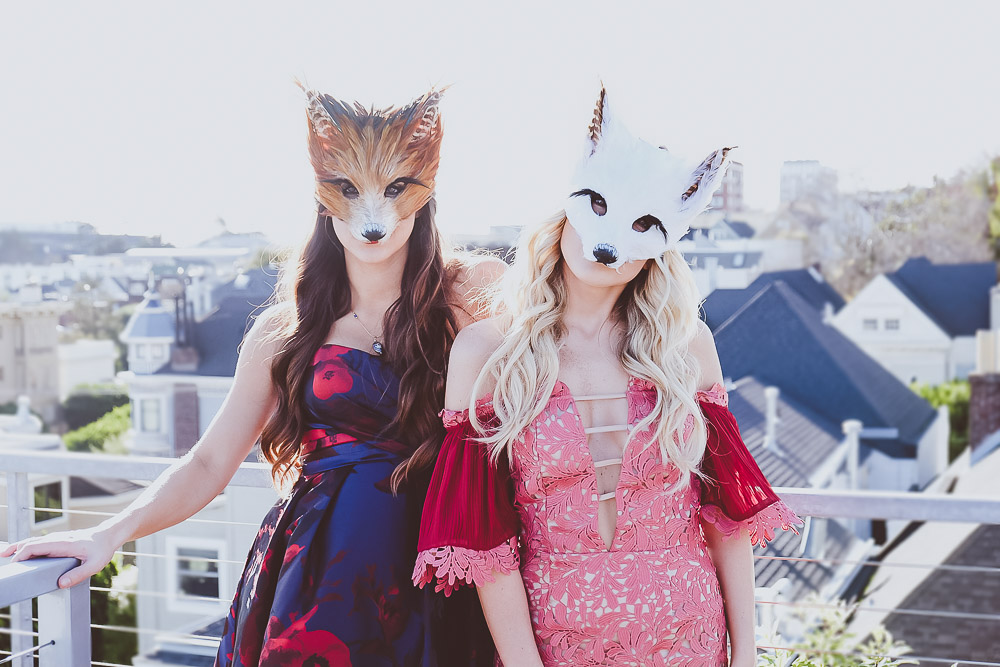 The Flowers
Leave it to Chantelle to be a closet DIYer. She ventured out of her neck of the woods to the San Francisco Flower Mart to create each of the floral arrangements herself. I loved that she chose to contrast the ornate femininity of the tea sets with leafy greens and a subtle palette of florals. The weightiness of the floral arrangements made it just the right amount of girlie for a recovering pink-a-phobe like myself.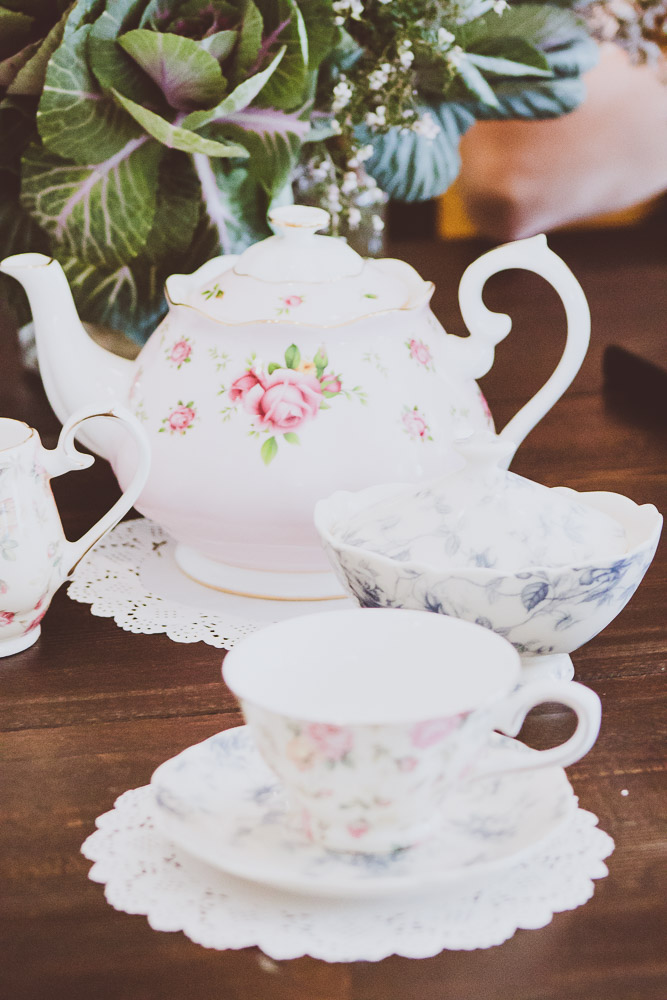 The Tea Set
In order to put together the perfect mismatching tea set we partnered with Wayfair and Teaware.house. Chantelle handpicked each the following pieces to build the beautifully eclectic combination you see above. Talk about talent and dedication! Good news, whether you are building a mismatching tea set to entertain, display, or simply throw a party she already did the hard work for you. Here is the full list of what she chose so you can recreate this bohemian look yourself:
RECIPE FOR THE PERFECT BOHEMIAN TEA SET
Tea Sets (1 of each of the following)
Tea Cups (2 of each of the following)
Tea Accessories (1 of each of the following)
Cake Platters (1 of each of the following)
Dessert Plates (about 15 plates)
Asian inspired Tea Sets from Teaware.house (1 of each of the following)
Serving Trays (1 of each of the following)
The thing I didn't realize about Wayfair is that they have their own registry which is great for not only brides but mamas-to-be like me. I have purchased half of the stuff for Lennon's nursery from Wayfair, including her rocking chair and rugs, and wish I would have set up a registry earlier to help with some of the nursery decor! Set your own registry up here. Now let's see how the decor all looks all together…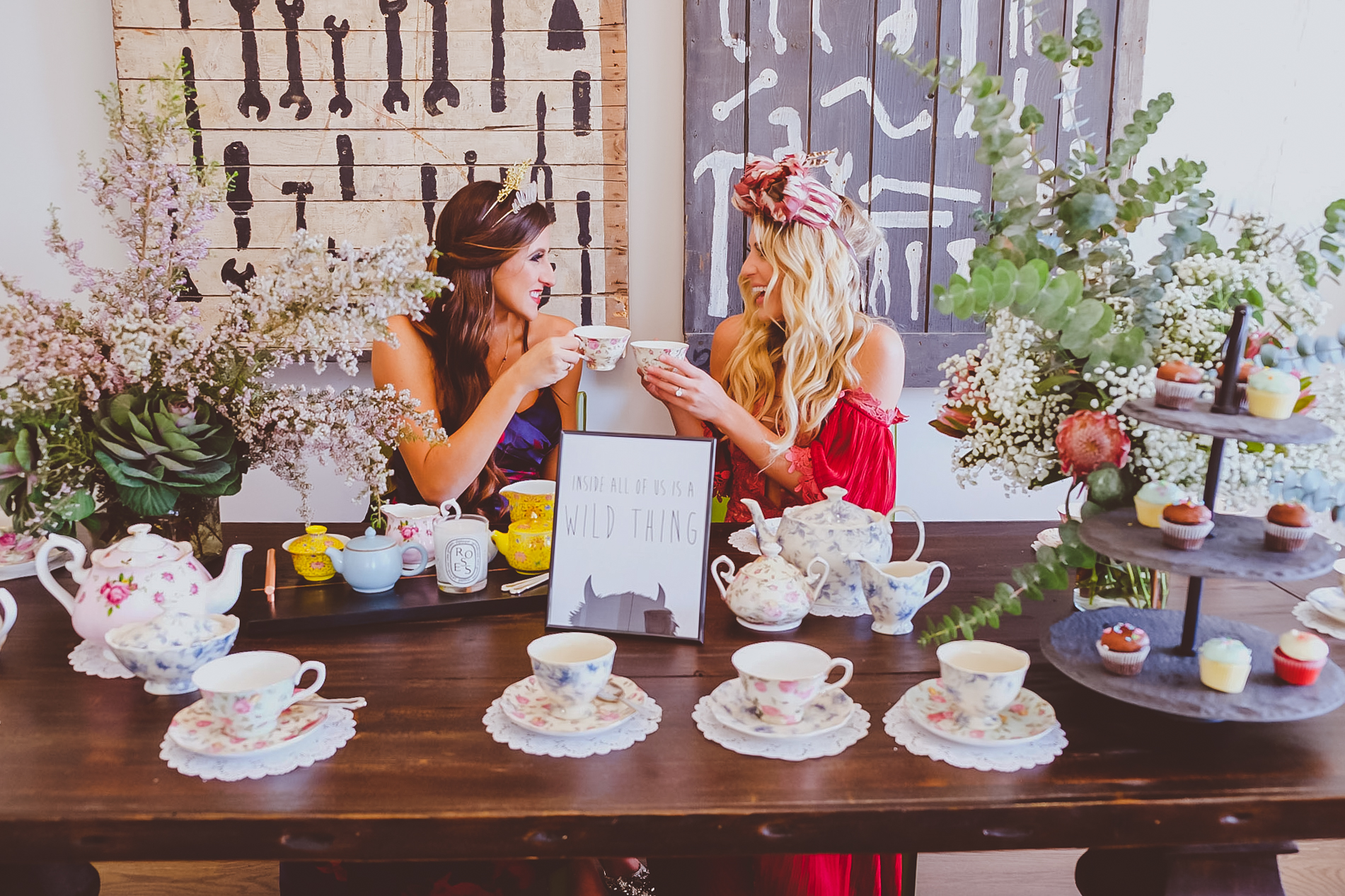 The Special Touches
I mentioned before that Chantelle is a closet DIYer but did you guys also know that she also sews? I learned that fact while filming a YouTube DIY clutch tutorial last year. You see that cute little teepee that Smooch is claiming as his own? Well, Miss Chantelle Paige whipped that baby up herself. One of these days I'll have to ask her how exactly she did it but I will note that Coulter had a little part in picking the perfect beach wood to make it happen. I'm currently obsessed with these adorable little tents for kids that are quickly circulating the internet (customize your own here). These sweet personal touches like this industrial Lennon sign (from Target) and DIY teepee made the day feel intimate and incredibly special. I still cannot believe the amount of care that went in to planning this perfect day.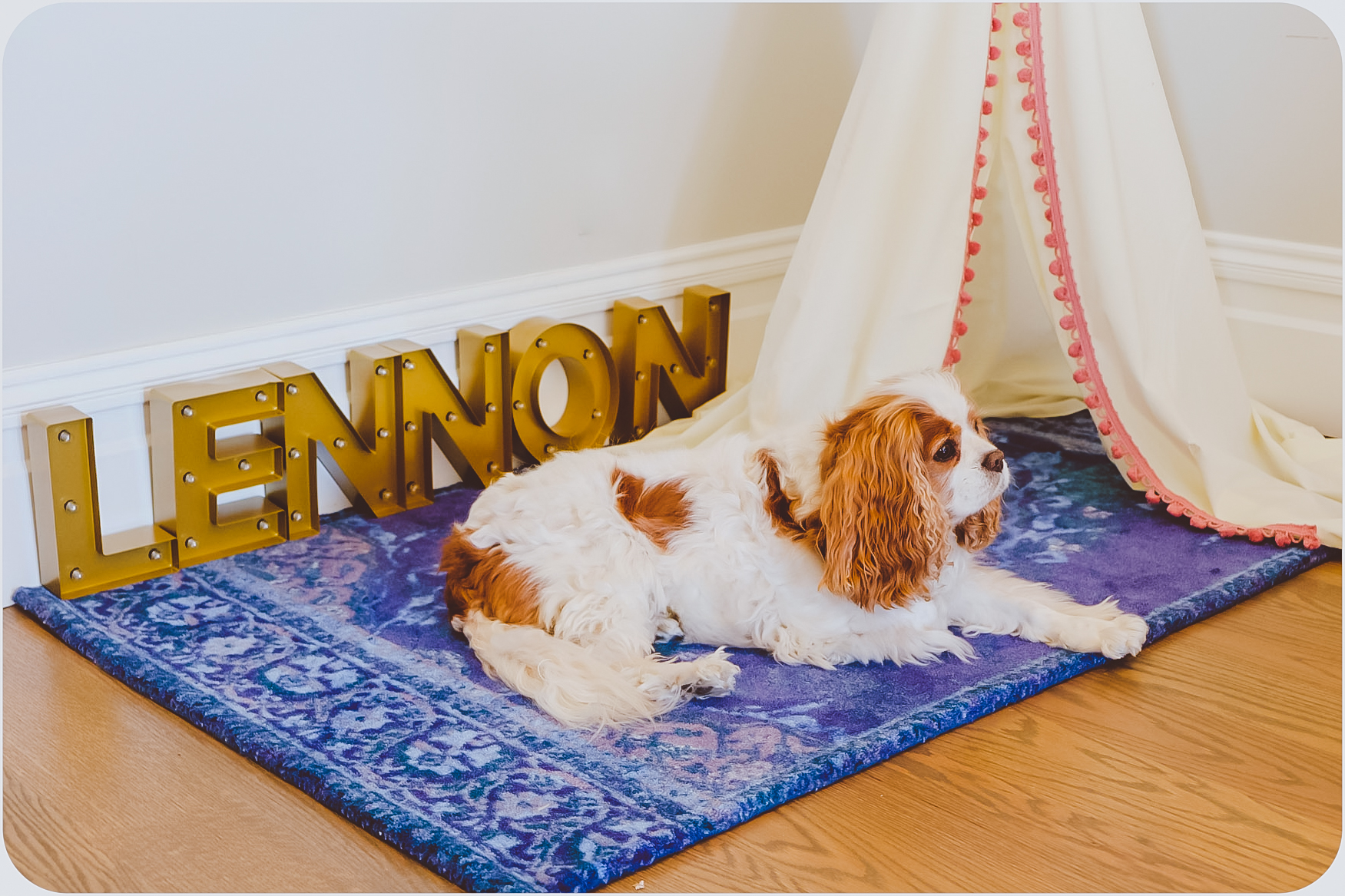 2. FOOD + Activities
My sister, seen laughing below, was our Director of Activities for the day. Not only did we drink tea (for me) and champagne (for the other ladies), eat tea sandwiches (Whole Foods caters some great options) but we played Jeopardy, opened gifts and shared some future Mommy words of wisdom.
My favorite part of the day was that each woman wrote a handwritten message to Lennon and offered their advice for my future little girl. You can see candid moments from the day below, as well as Chantelle sharing her wishes.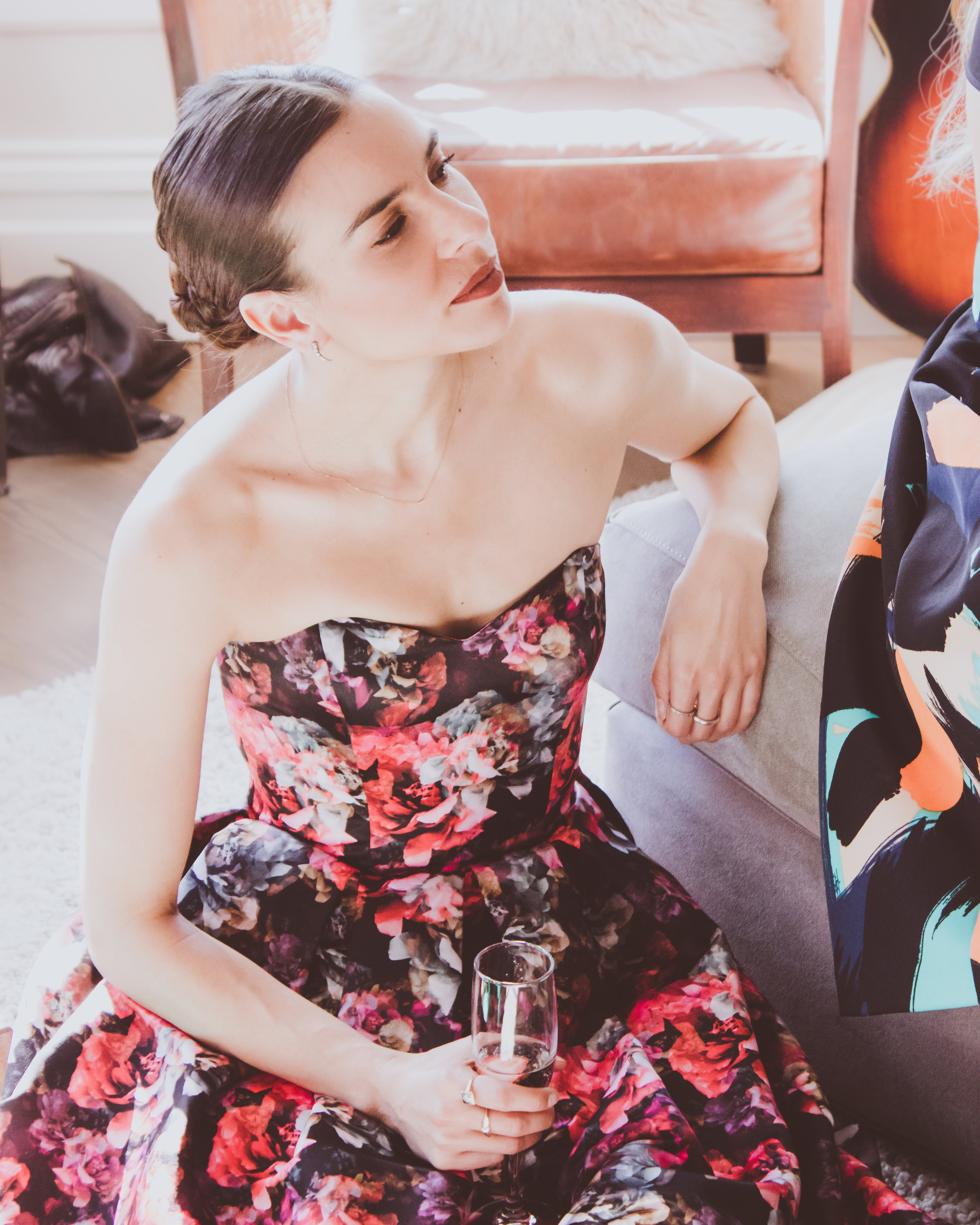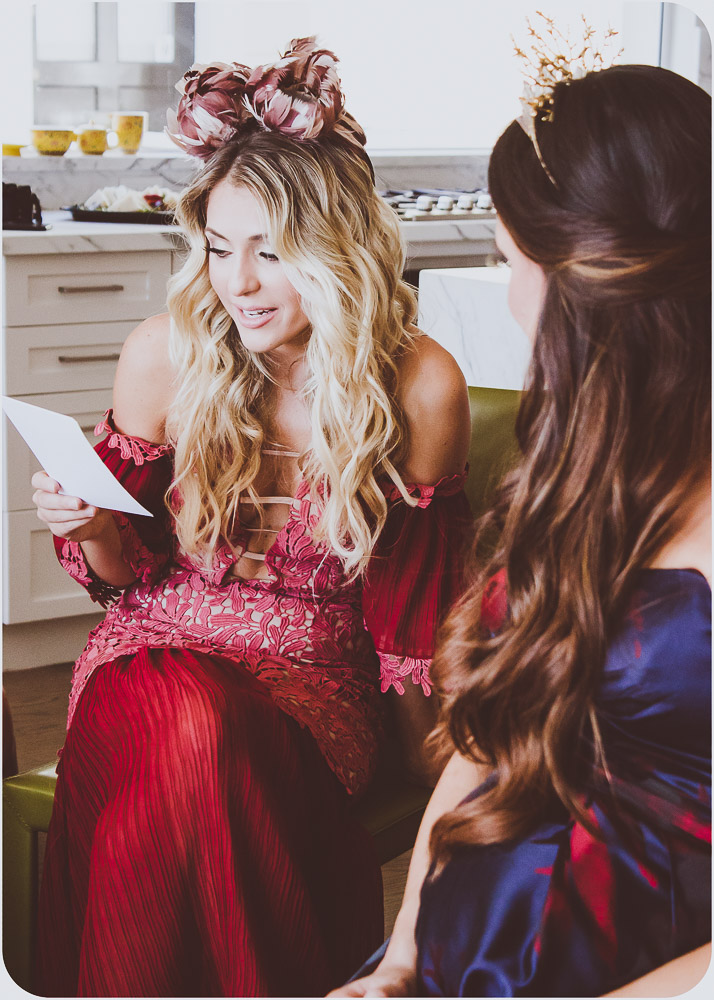 3. Dress Code
Another important part of this theme for a fashion addict like me was obviously the dress code. I love to play dress-up and wanted the ladies to feel free to go all out and dress the part! The dress code was listed as the following:
Come dressed in your best Tea Party Chic attire. You know that one dress in your closet that always feels a little "too much"? Well, throw it on with your pearls, fur, fascinators, embellished heels and gloves. Now is the time to fulfill all those little girl dress up dreams and come fit to tea with the Mad Hatter himself. I, personally, think my ladies went above and beyond with the dress code and became the best decorations of the day.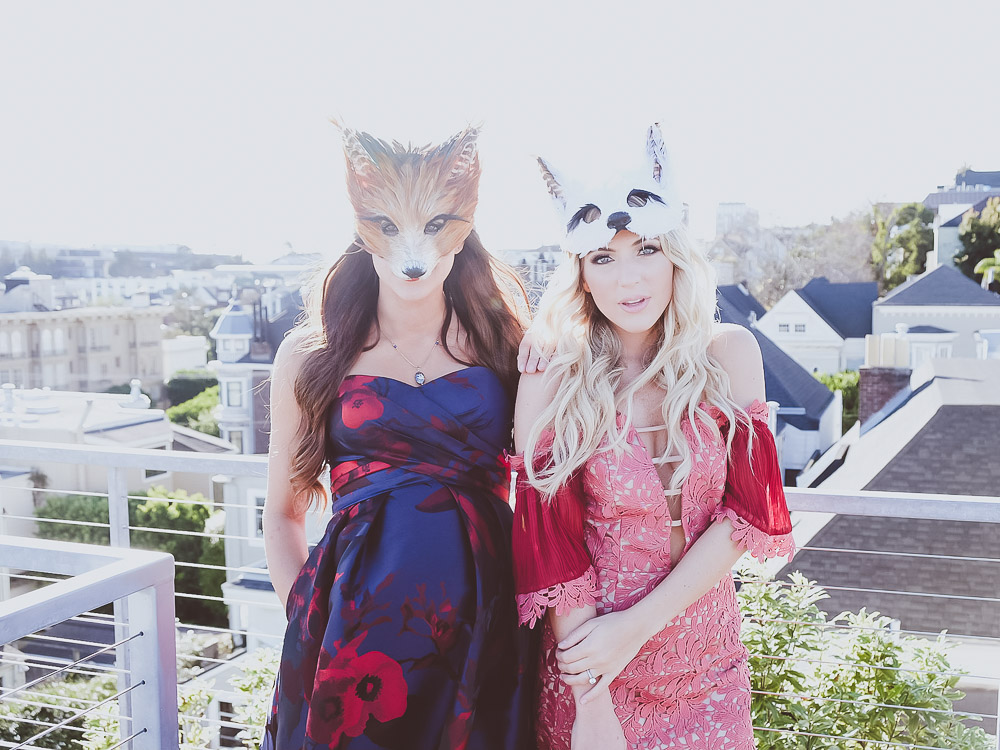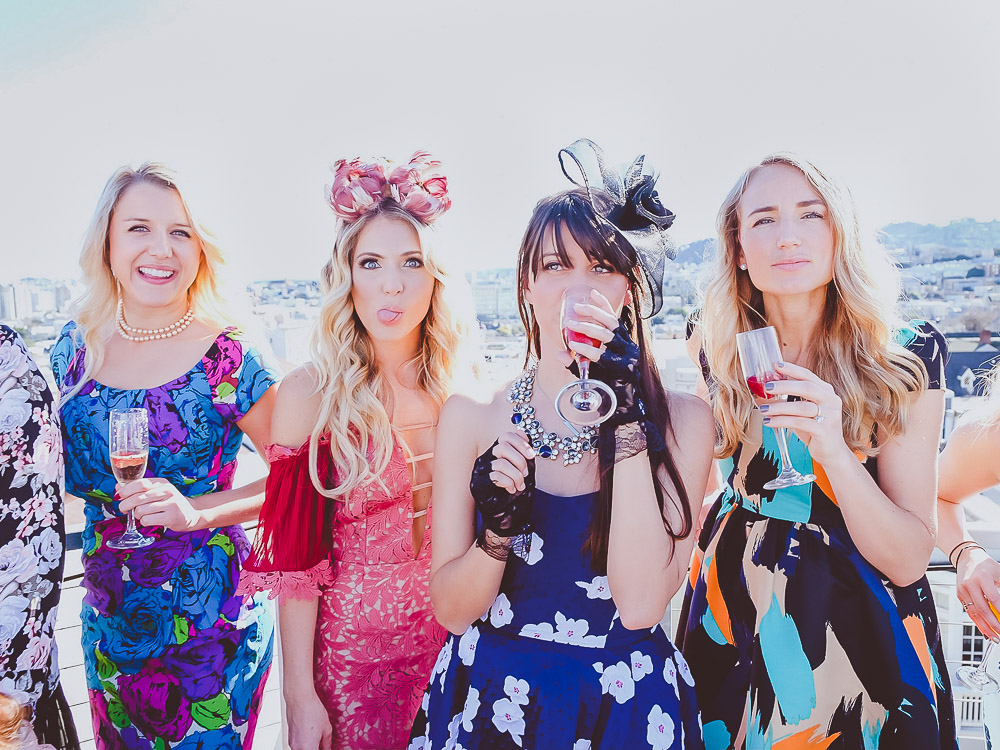 4. What We Wore
So what exactly did we where? See our styling details below.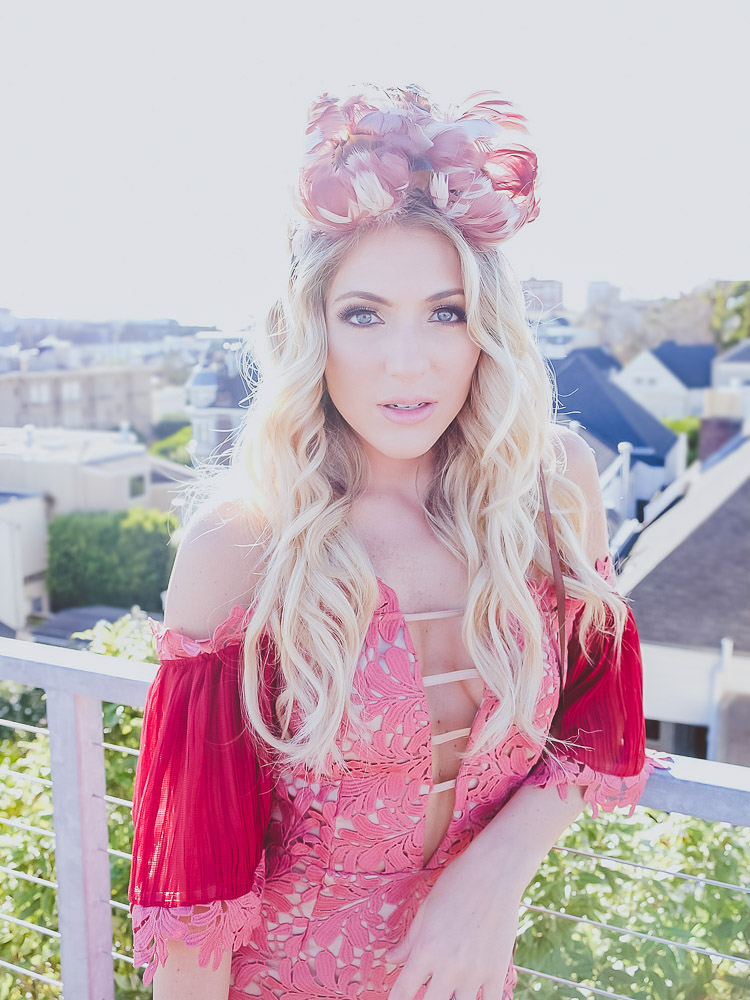 On Chantelle:
Owl Mask by Curious Fair
Hair and Makeup by Moni Sebestian
Dress by Talulah via Infinity Cr8tive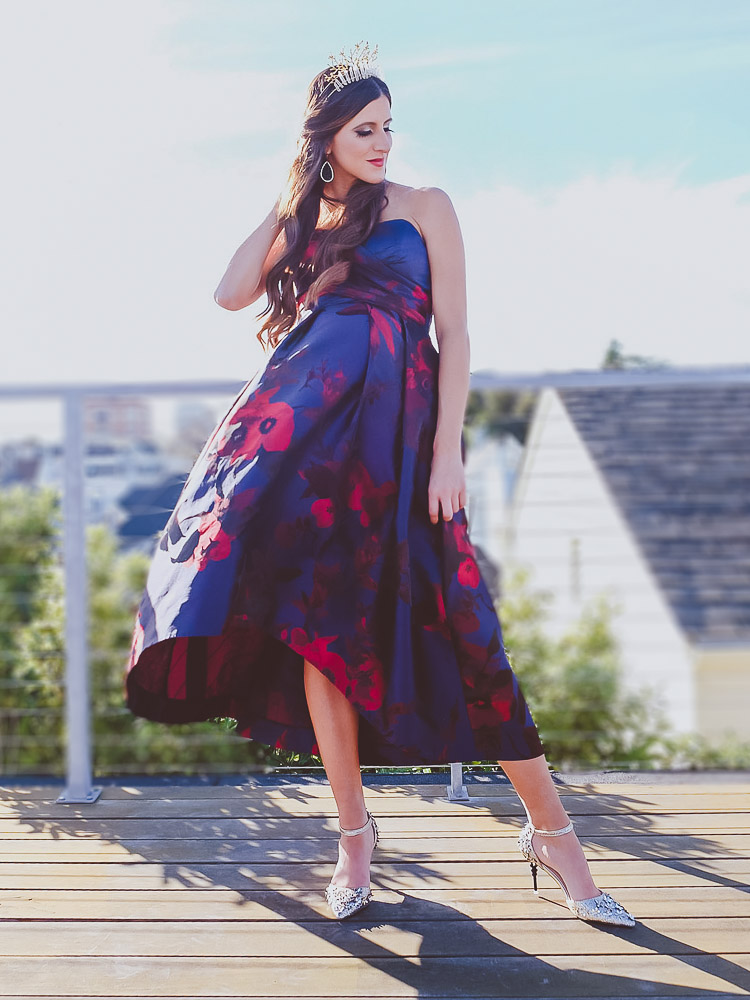 On Rachel:
Crown by Curious Fair
Hair and Makeup by Moni Sebestian
Dress by Shoshanna via Rent the Runway
Embellished heels (similar here)
Vintage Jewelry was my Grandmother's for a personal touch
5. Reflections
I was apprehensive to do a traditional baby shower because being the center of attention has never been my thing but ultimately I'm so happy I let them do this for me. They took all the best parts of bringing a new baby into the world and surrounded them in the most non-traditional, out of the box, fashionable theme I could ask for. There was so much love and warmth from the woman in my life and I wouldn't have had it any other way. The best part is that Lennon is coming into a strong, creative, supportive, diverse tribe of aunties and I cannot wait to see what she learns from each and every one of them.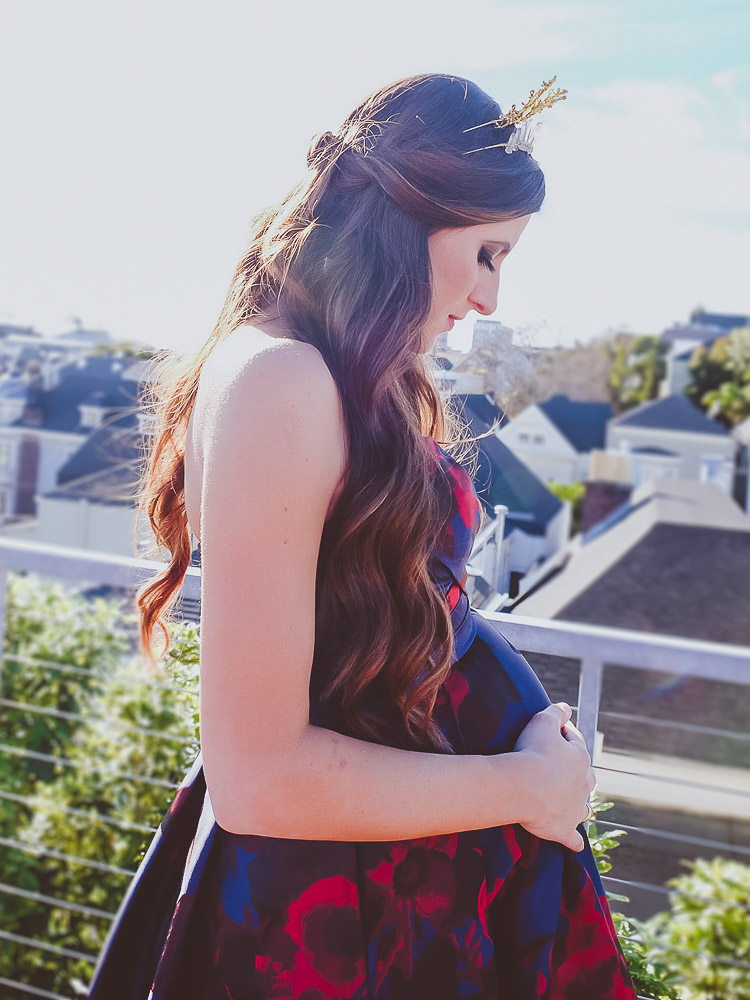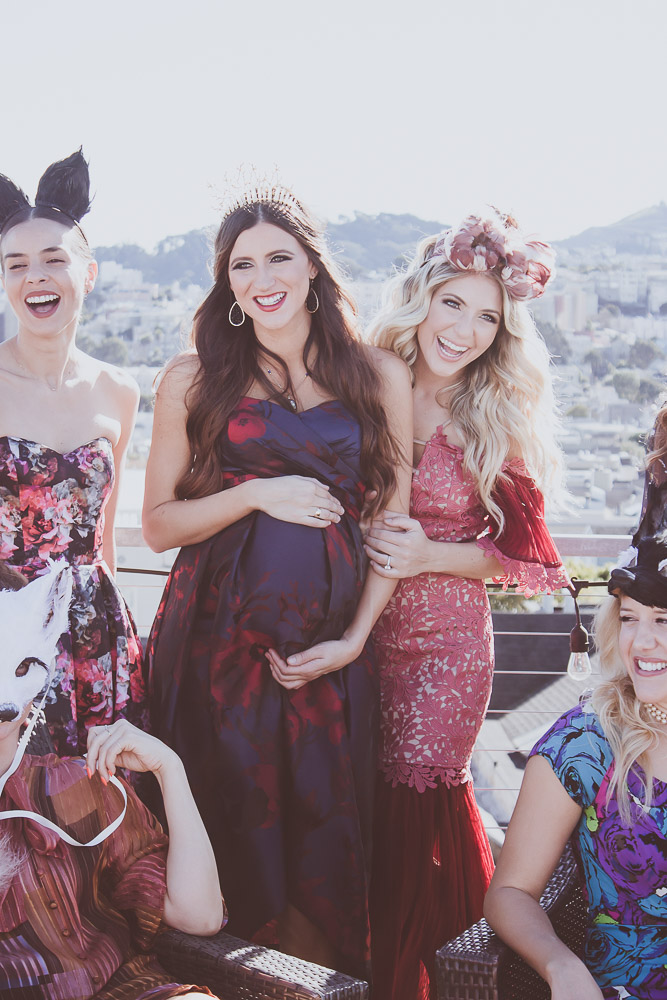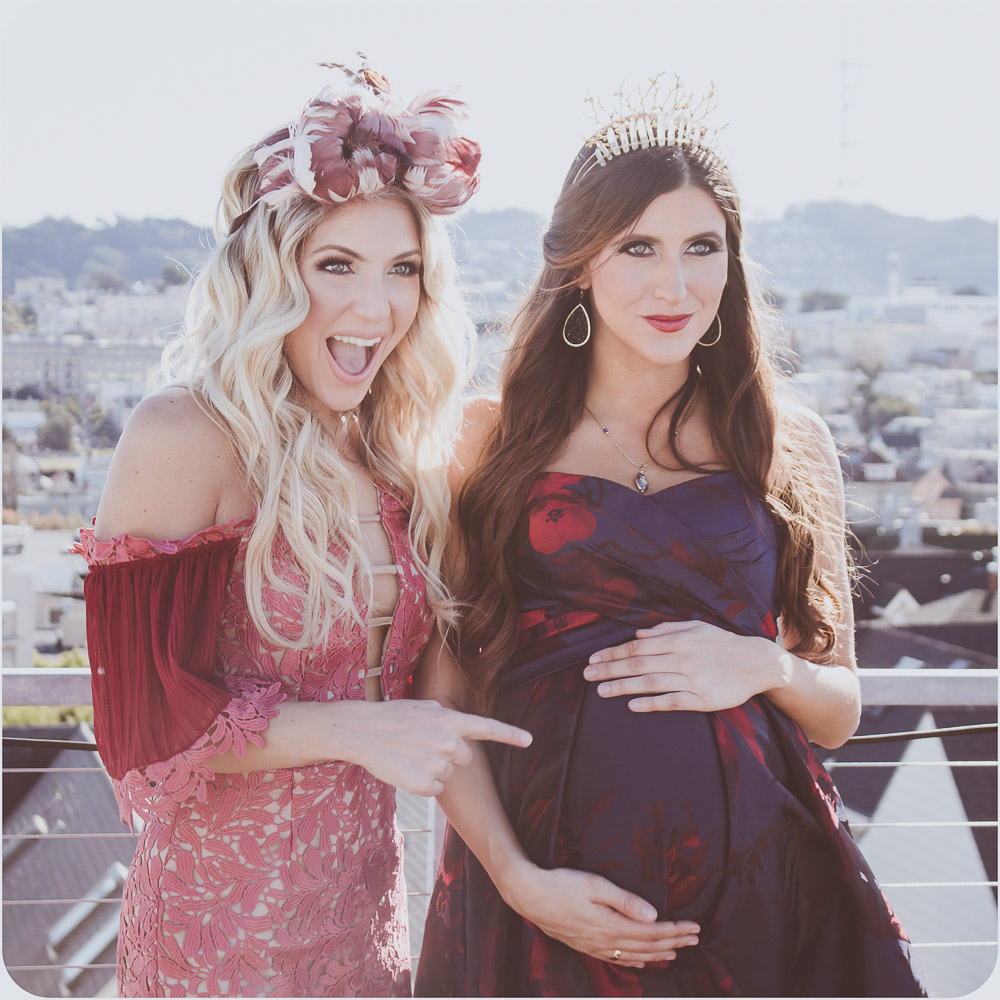 Thank you to Chantelle and Melissa for making this day happen and Breana Taylor for her photographing these wonderful moments.
With love,