I'm going to the courthouse and I'm….. picking up my marriage license….
You know what, they don't write many songs about going to the courthouse to pick up your marriage license, or going to the bar for celebratory drinks with your future bridesmaids. I know, it's definitely a missed opportunity. Even still, these are both great excuses to wear white when you become a soon-to-be bride. I have tried to make the most out of my year and a half long engagement, wear a little (actually a lot) of white and really embrace my bridal style because Hey! I'm about to marry the man of my dreams and that is absolutely a reason to celebrate.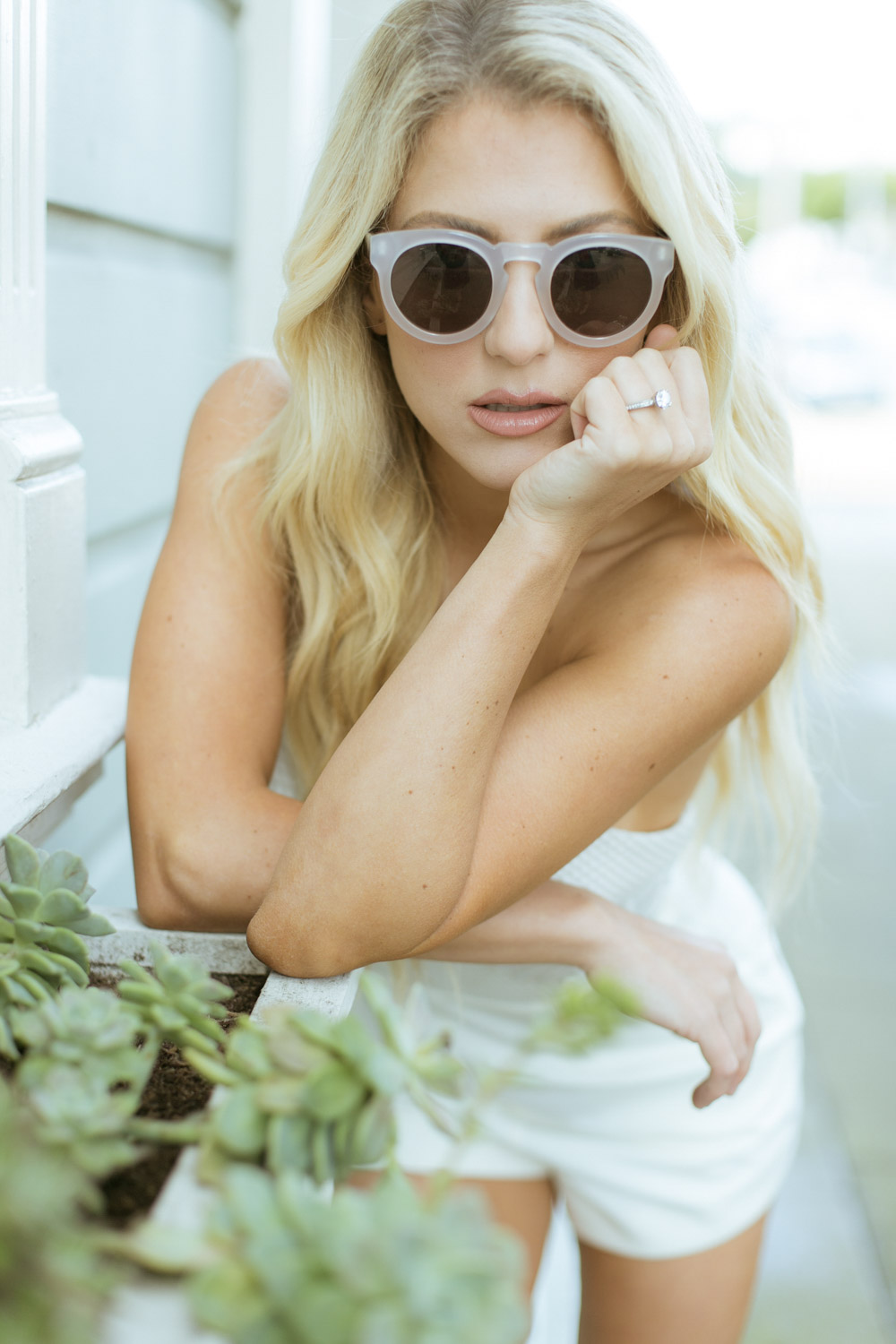 I recently featured some an article on The Wedding Chicks called 5 Occasions To Wear White Other Than Your Big Day but I wanted to take a second look and give you all even ideas of where to wear these looks. Read on for shopping guides, tips on recreating each look and alternative events to show them off at.
---
Look 1: A LWR (little white romper) is a great alternative to a LWD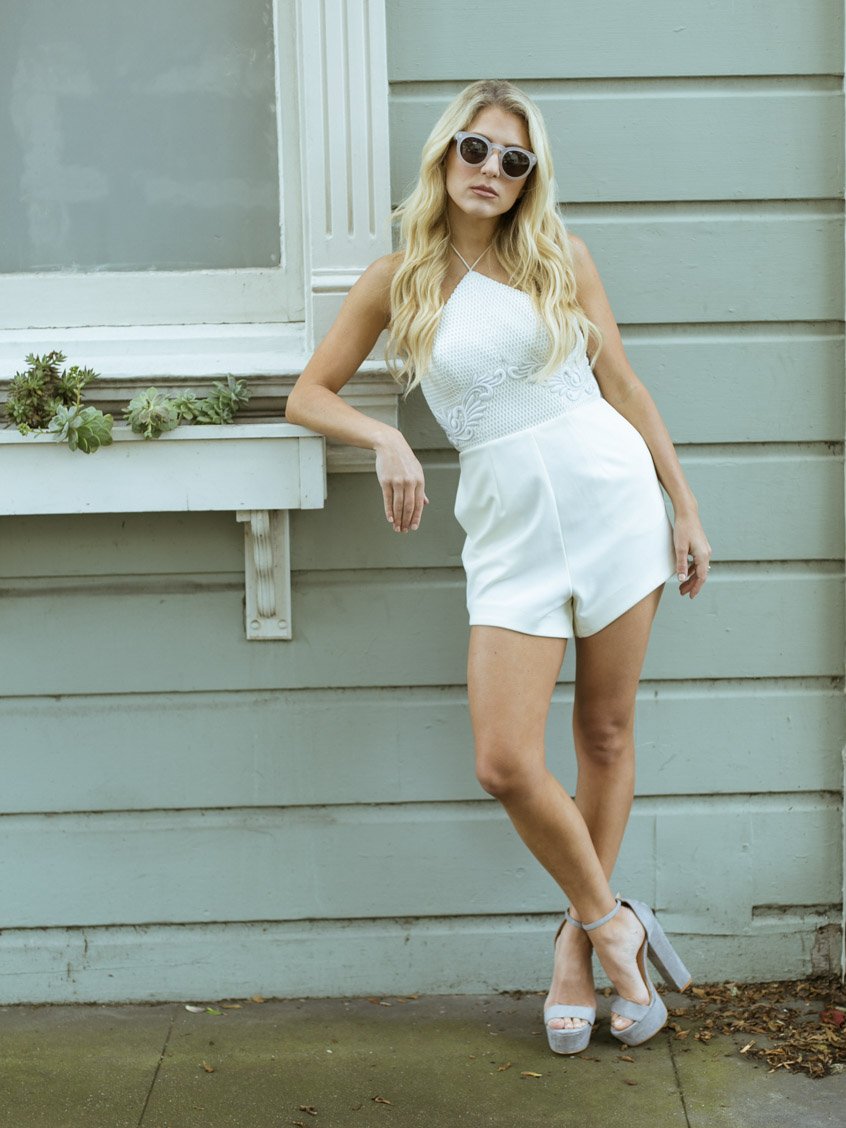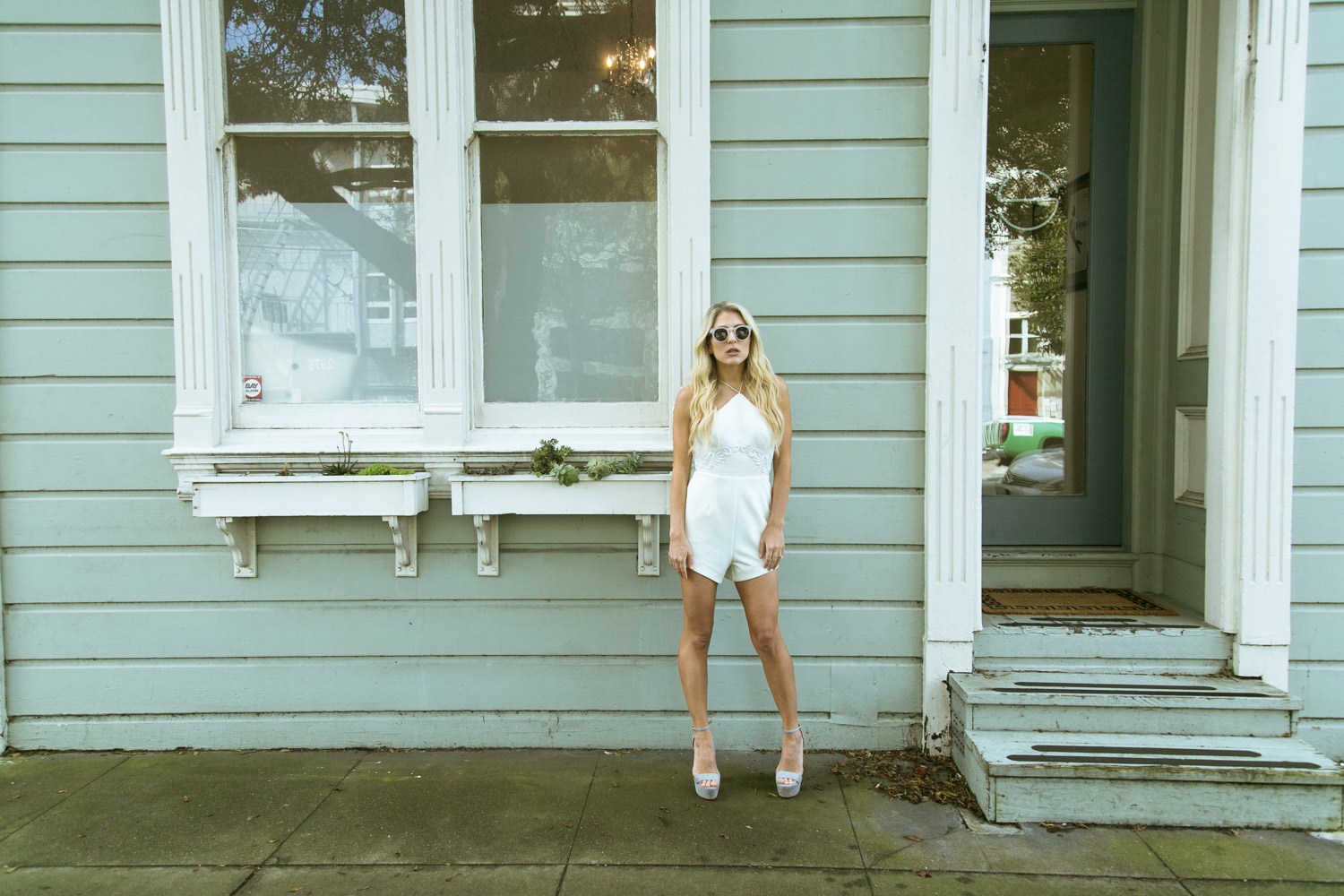 This look basically says, "I'm go-going to the chapel." You like what I did there? If you've always loved your legs then what better way to showcase them then in a Little White Romper? The beauty of this outfit is that you could where it to any of your pre-wedding festivities listed below AND then pack it with you to reuse on your honeymoon. The romper I've shown above is from Bless'ed are the Meek but you can shop alternatives here.
But where do I wear it?
To pick up your marriage certificate
To your bachelorette weekend
To wedding dress shop with your gals
To celebratory drinks with your friends
On your honeymoon
Style Tips:
This look screams sixties so go all out with some statement oversized shades and platform heels.
Shop The Look:
Look 2: Go modestly alluring in A crocheted lace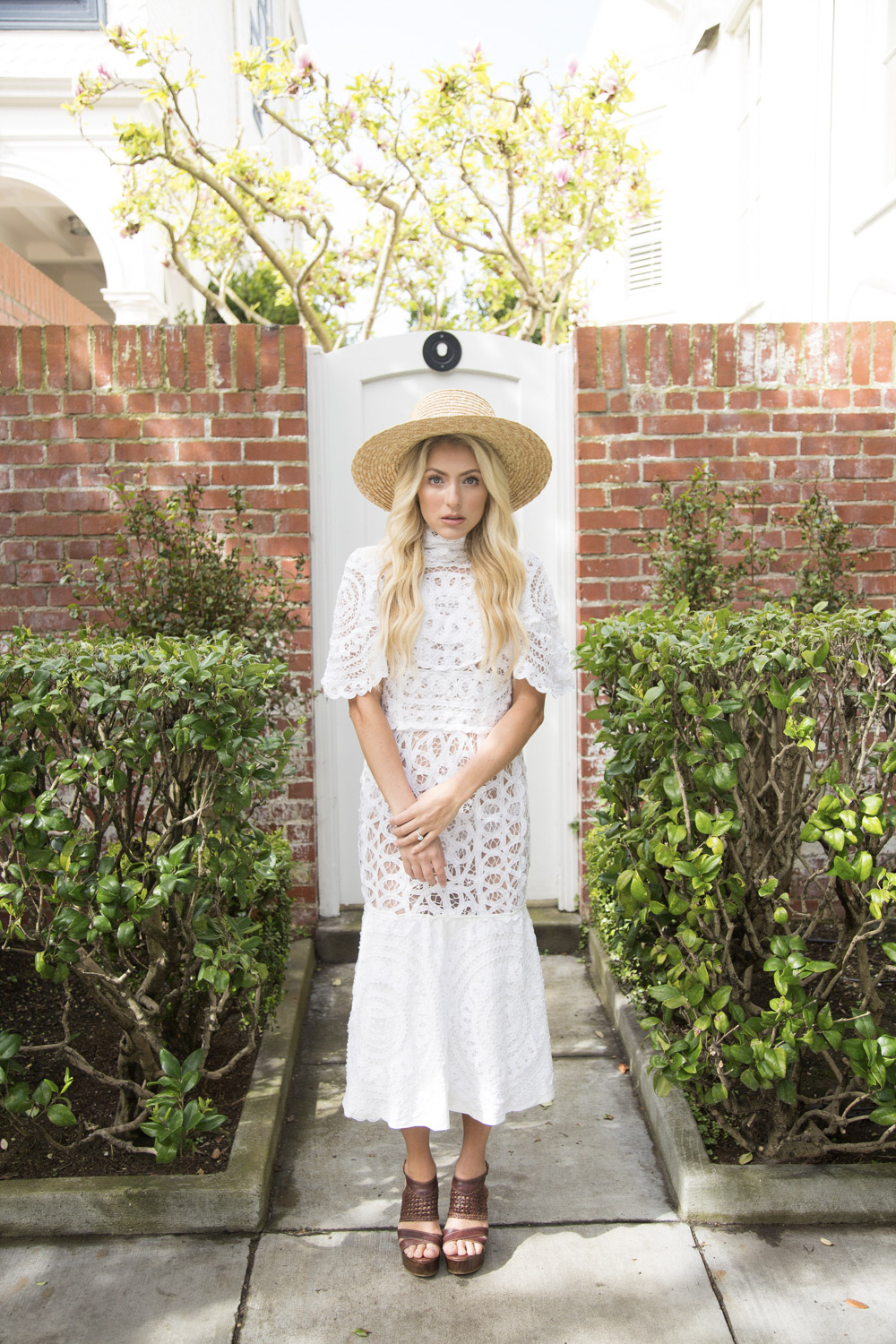 Would we call this farm girl chic? If you want to avoid feeling like a tablecloth in an open weave lace crochet just skip the white slip. The open weave of this Asilio dress (similar here) allows just the right hint of skin to peak through and creates a surprisingly sexy silhouette. Not ready to ditch the slip? See my style tips below.
But where do I wear it?
Bridal Shower
Post-wedding brunch
Style Tips:
Add a nude slip if Great Grandma plans on making an appearance! This beautiful little number can be shockingly revealing. Not worried about it? Be sure to invest in some white boy shorts or high waisted panties and let a little skin peak through.
Shop The Look:
Look 3: A classic strapless cocktail number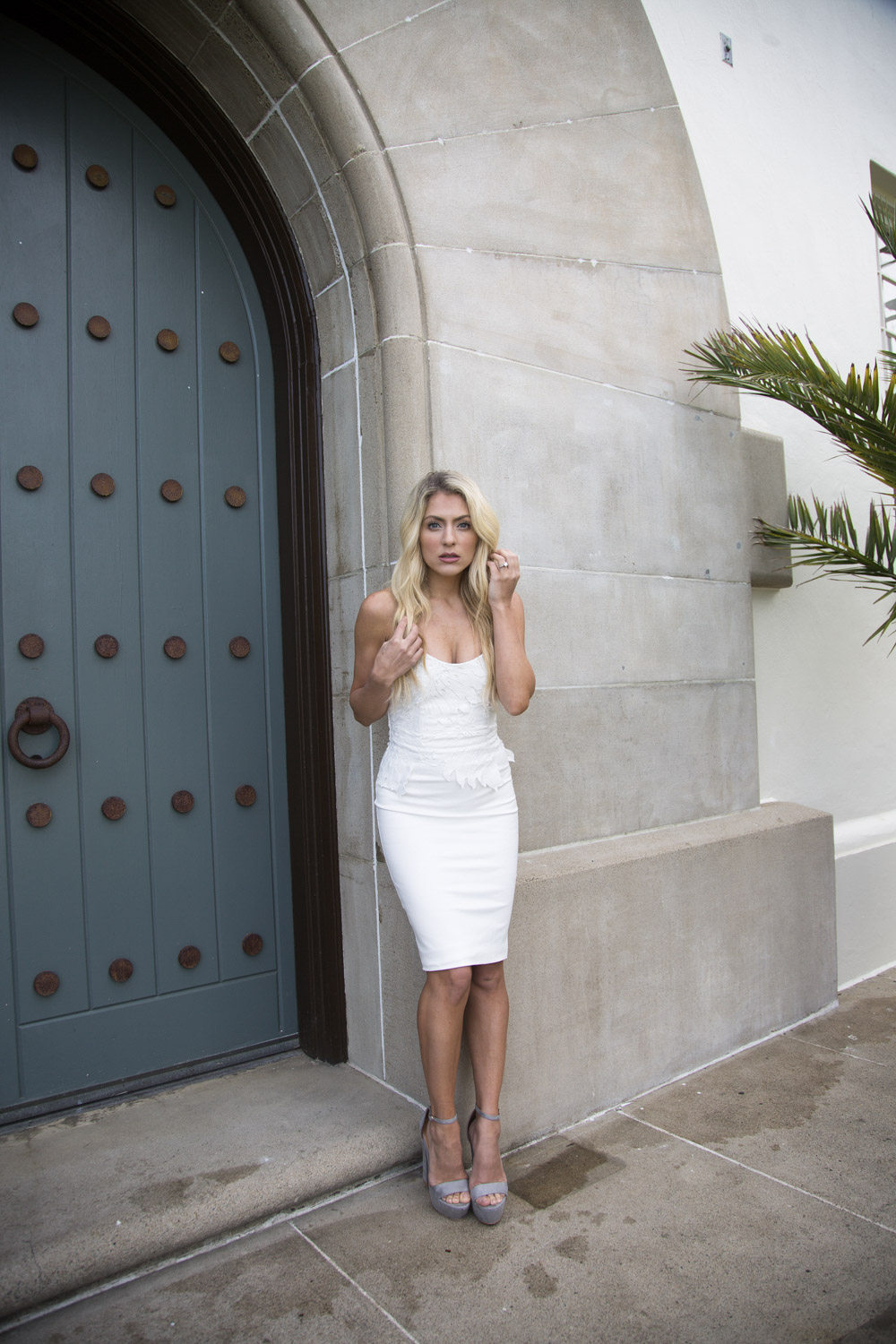 …Because we all look good in a sweetheart neckline but not all of us get the chance to wear them on our wedding day. I think this cut can be so classic and flattering on so many different figures, which is why I chose this dress by Bless'ed are the Meek as a safe bet for most of your pre-wedding occasions. It's simple, classic, flattering and a length that is appropriate for most bridal situations. You can shop similar styles here. Of course, I added some sky high heels for a bit of glam (and height) but I kept the accessories to a minimum. All you need for this look is a great fitting dress, a smile and that beautiful bridal glow.
But where do I wear it?
A formal engagement party
Your engagement shoot
Your rehearsal dinner
As your after-party dress
Style Tips:
Keep accessories to a minimum and play off of the classic minimal vibe of this look
Shop The Look:
Stay tuned for Part 2 of my Wedding Style Series with (SPOILER ALERT) a subtle departure from your traditional bridal white.
With love, Chantelle
---
Photography by: Anastasia Sierra
Art Direction by: Rachel Brooks
To see the original feature head over to The Wedding Chicks now!
With love,