From Day to Night…
I've shared exactly what I'll be wearing to work, drinks with my gals, and dinner with my love/fiance this V-Day.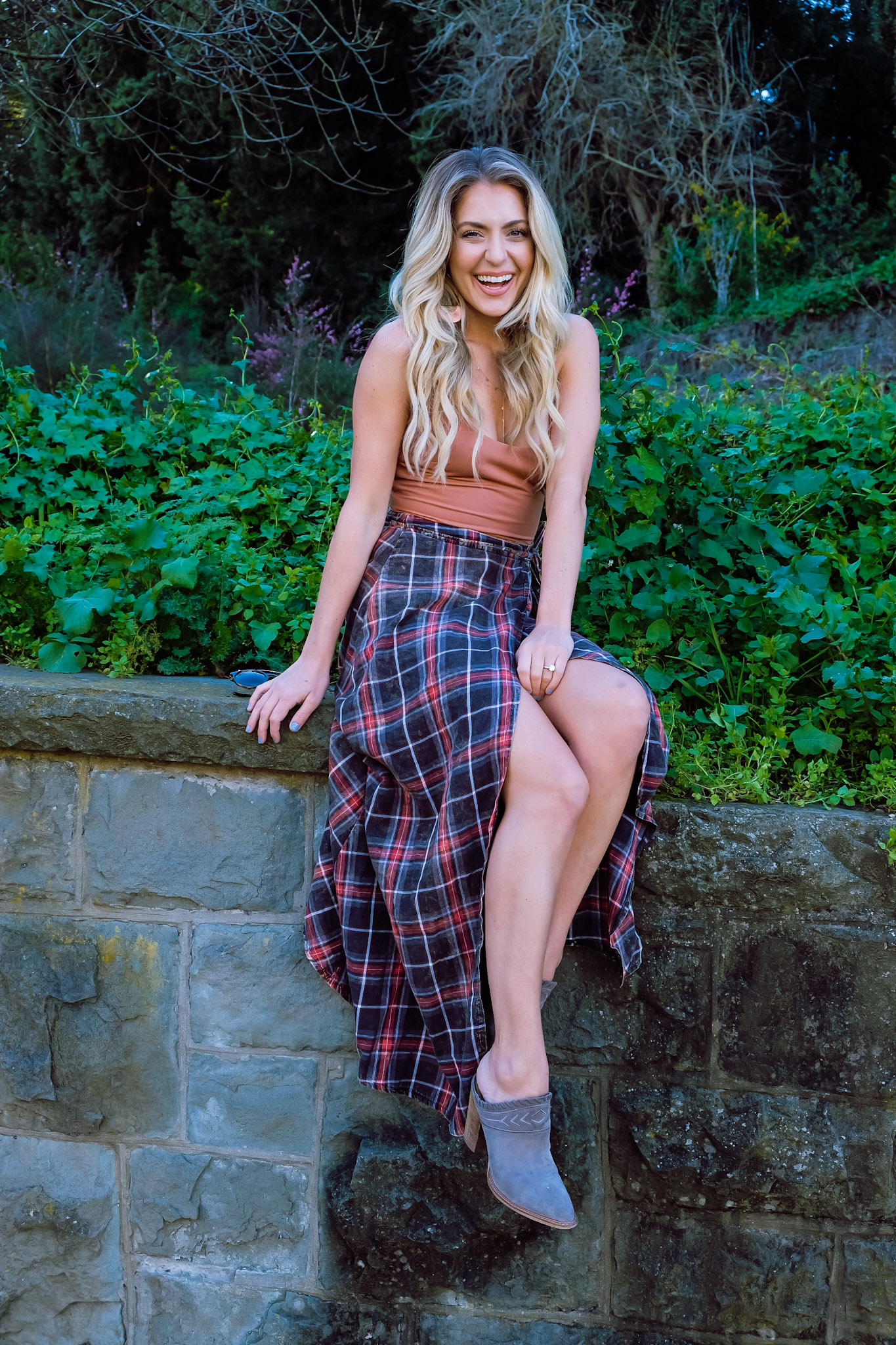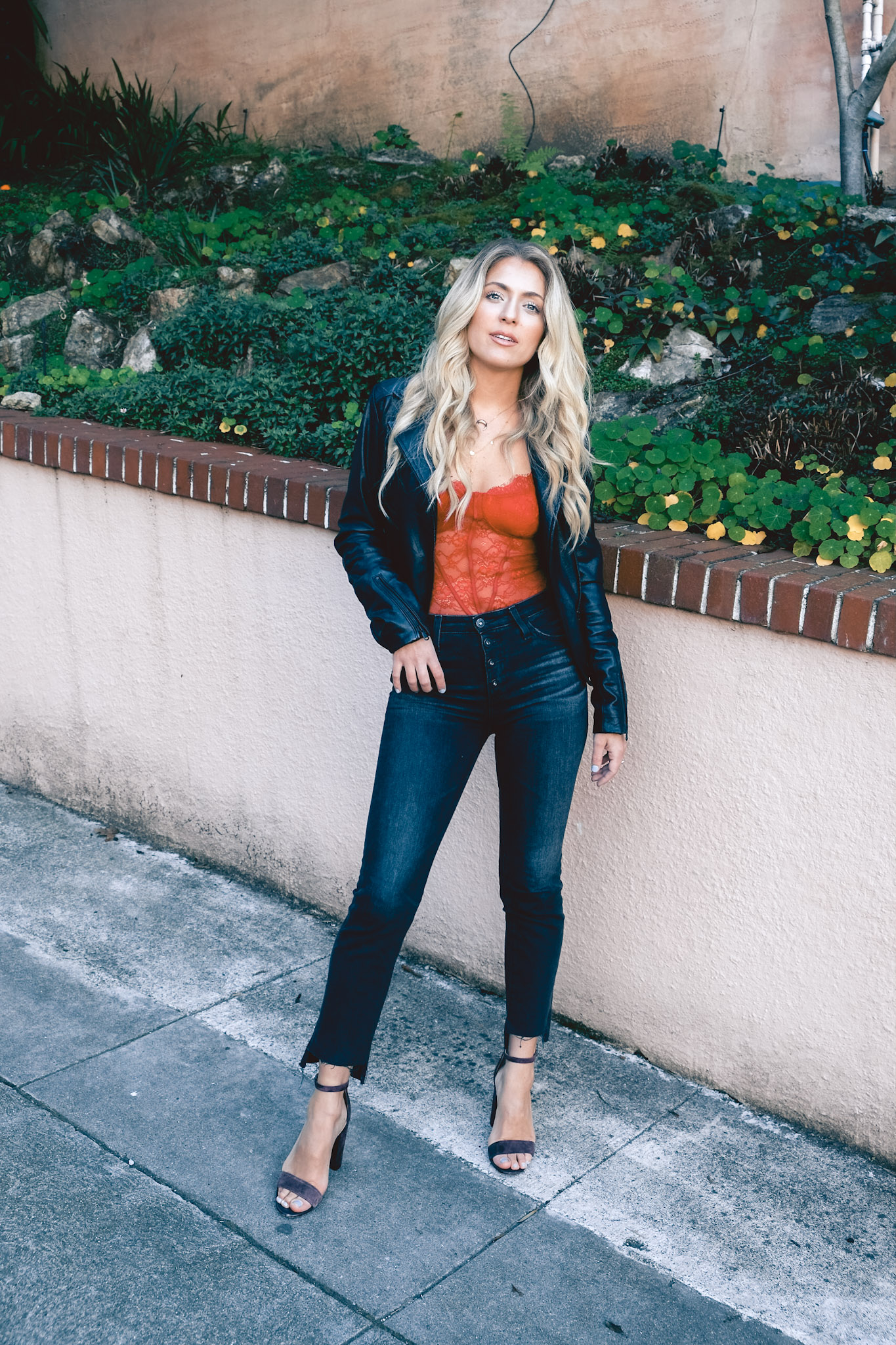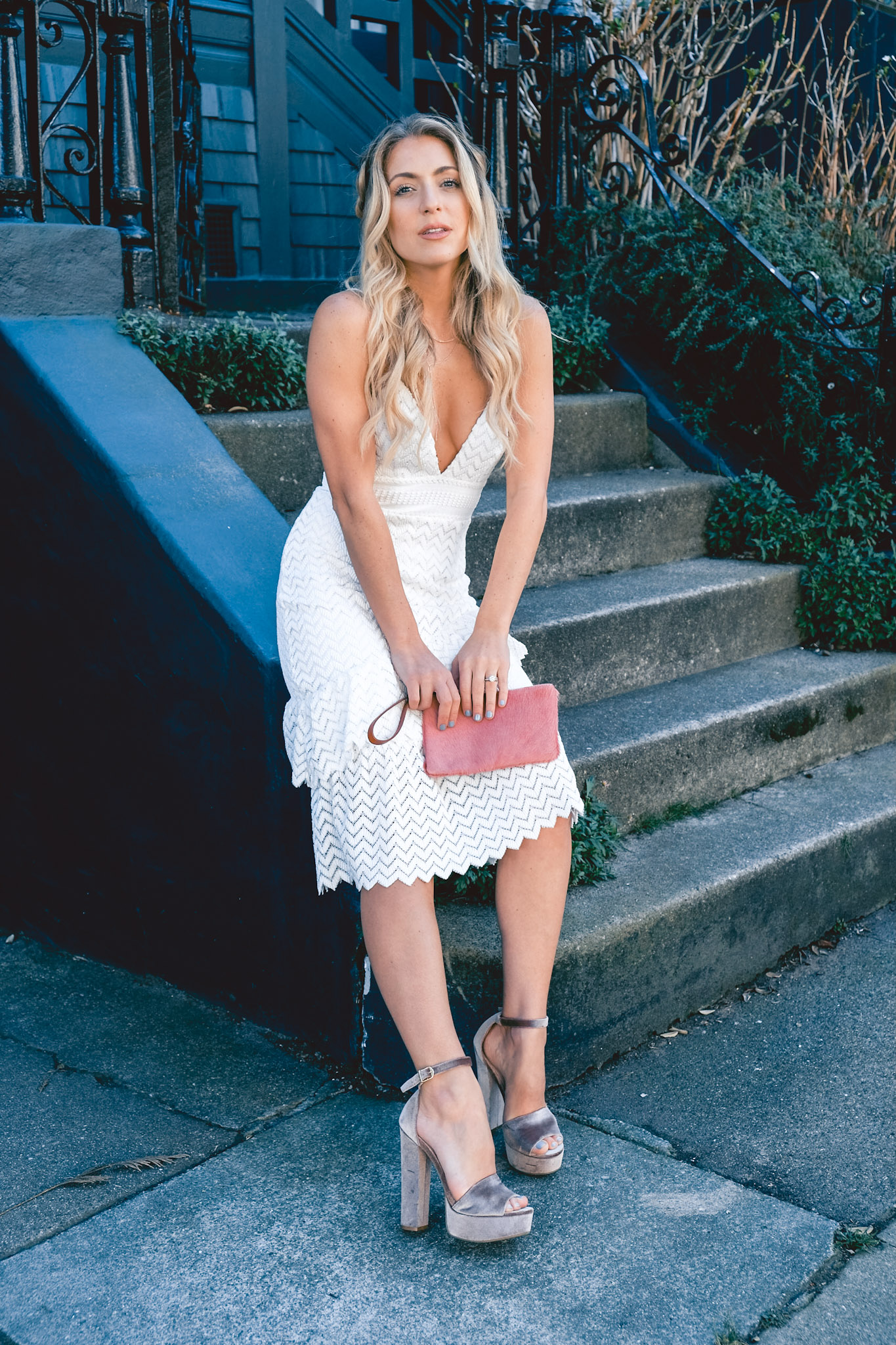 Valentine's Day isn't just about having a significant other, there are so many different ways to spread some love. Self-love included! This year I decided to really go all out and incorporate something festive into each of my outfit options. I also tried to avoid the typical all-red outfit and chose key pieces that I already had hanging in my wardrobe… with some new additions. Recognize any of these items? That's because most have been shown to you before! So, here's my take on spicing up some items you might already have in your wardrobe with my "must-have" pieces 😉
Look 1: Not your typical pink + red
Occasion: A festive yet casual outfit to wear all day
Must-have piece: Plaid maxi skirt by Vintage Havana (similar here)
Pair it with: A blush bodysuit (similar here), suede bootie (update style here), layered jewelry, and the new Vogue Eyewear!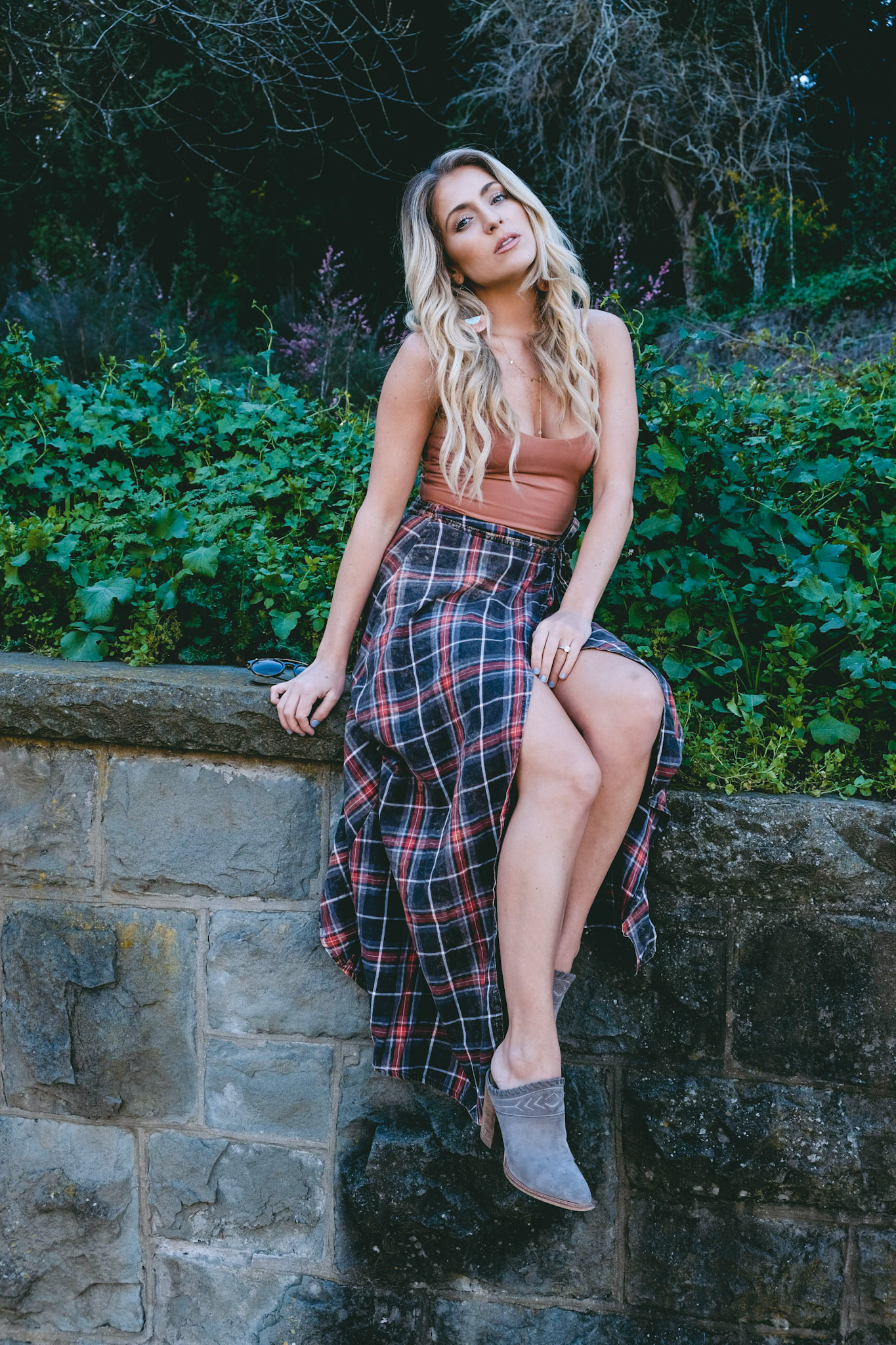 This plaid maxi skirt is by one of my favorite brands, Vintage Havana, I'm obsessed with them and wearing one of their sweatshirts as I type out this post ;p Skirt: I love that it has some red in it, without screaming "V-DAY!"… I've also gotten so much wear out of this skirt, now $30 😀 (flannel top same pattern found here). Now let's talk about this top, at this point we should all own a great fitting bodysuit. One that can easily pair well with both jeans and skirts. The bodysuit is the perfectly fitting tee of 2018 (similar less fitted here). If you don't have one immediately go purchase one!!! I have worn this comfortable little baby, by kookai, time and time again and it has yet to fail me. BRAND NEW VOGUE SUNNIES! I'm in love. Plus my go to Chinese Laundry mules (similar here), you've seen me wear TONS. Tan booties are a must have, great at leg lengthening 😉
Shop My Look
Look 2: Can't go wrong with leather and lace.
Occasion: Galentine's drinks with my ladies (while maybe looking to flirt a bit, if single 😉
Featured pieces: Red lace bodysuit by GUESS
Paired it with: A fitted leather jacket by DSTLD (IGCP for 10% off!), black cropped jeans, and maroon sandals.
I originally showcased this lace bodysuit, and this look's must-have piece, with it's matching skirt in my holiday dressing guide. Honestly, since then I've been dying for an excuse to wear it again. This time around, I dressed it down with my current favorite cropped jeans and a tailored leather jacket, my go to, by DSTLD (use PROMO CODE: IGCP for 10% off). A few layered gold necklaces similar here and here) and a simple maroon heel kept this sexy look from feeling too expected.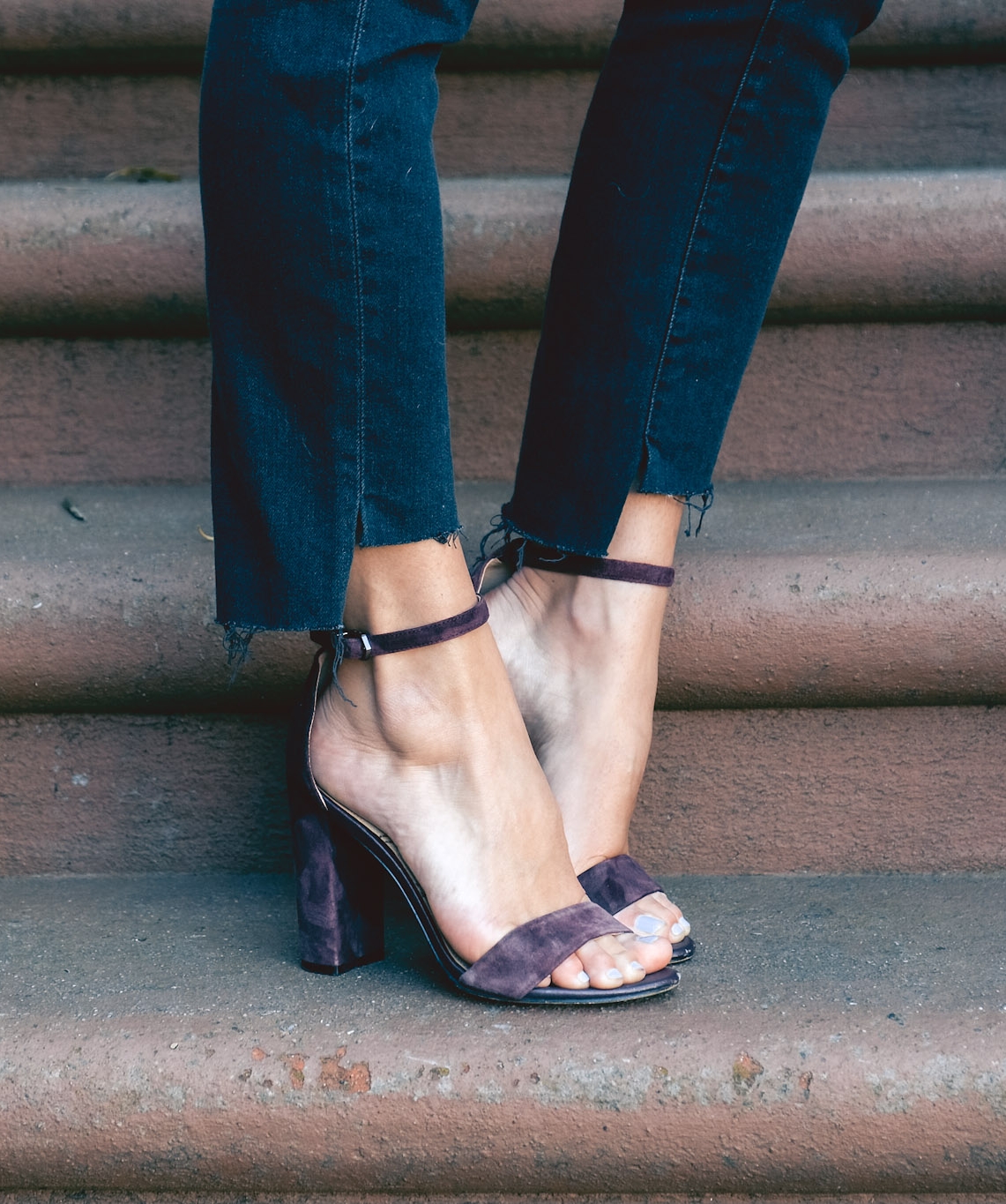 Shop My Look
Look 3: Not so innocent
Occasion: Dinner date with my fiancé
Featured pieces: White lace dress by Saylor
Paired it with: Clare V. clutch (similar metallic here), Chinese Laundry heels, and 8 other reasons necklace
Whether it's a little black, red or white dress, they all share a common thread: simplicity and major sex appeal. This year I'm getting married and I'm all about the LWD ("Little White Dress"). This white lace dress combined with blush tones eludes innocence on date night, but – because it's still a tight little dress- says otherwise. My first choice for a date night heel is that it always needs to be over 5 inches, 6'5″ fiancé haha, which is why I am constantly rockin' this suede heel by Chinese Laundry. I love non-matching matching, a.k.a this pink Clare V. clutch (similar here) with the blush heel (I did a similar color combination on Look 2 with my maroon heels and bright red bodysuit). It ties the outfit together without feeling too matchy-matchy. This delicate necklace by 8 Other Reasons is the perfect layered complement to my favorite plunging necklines.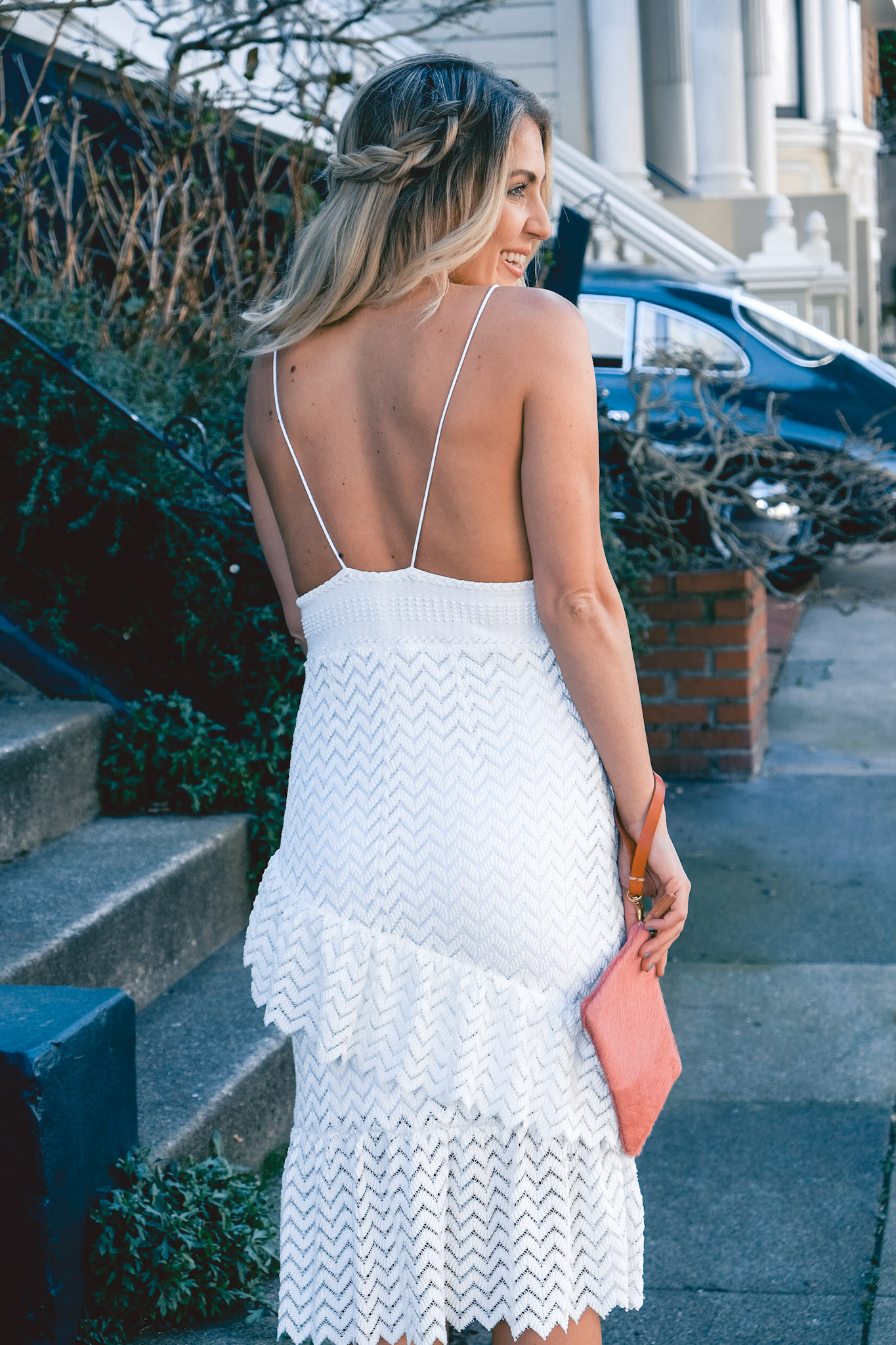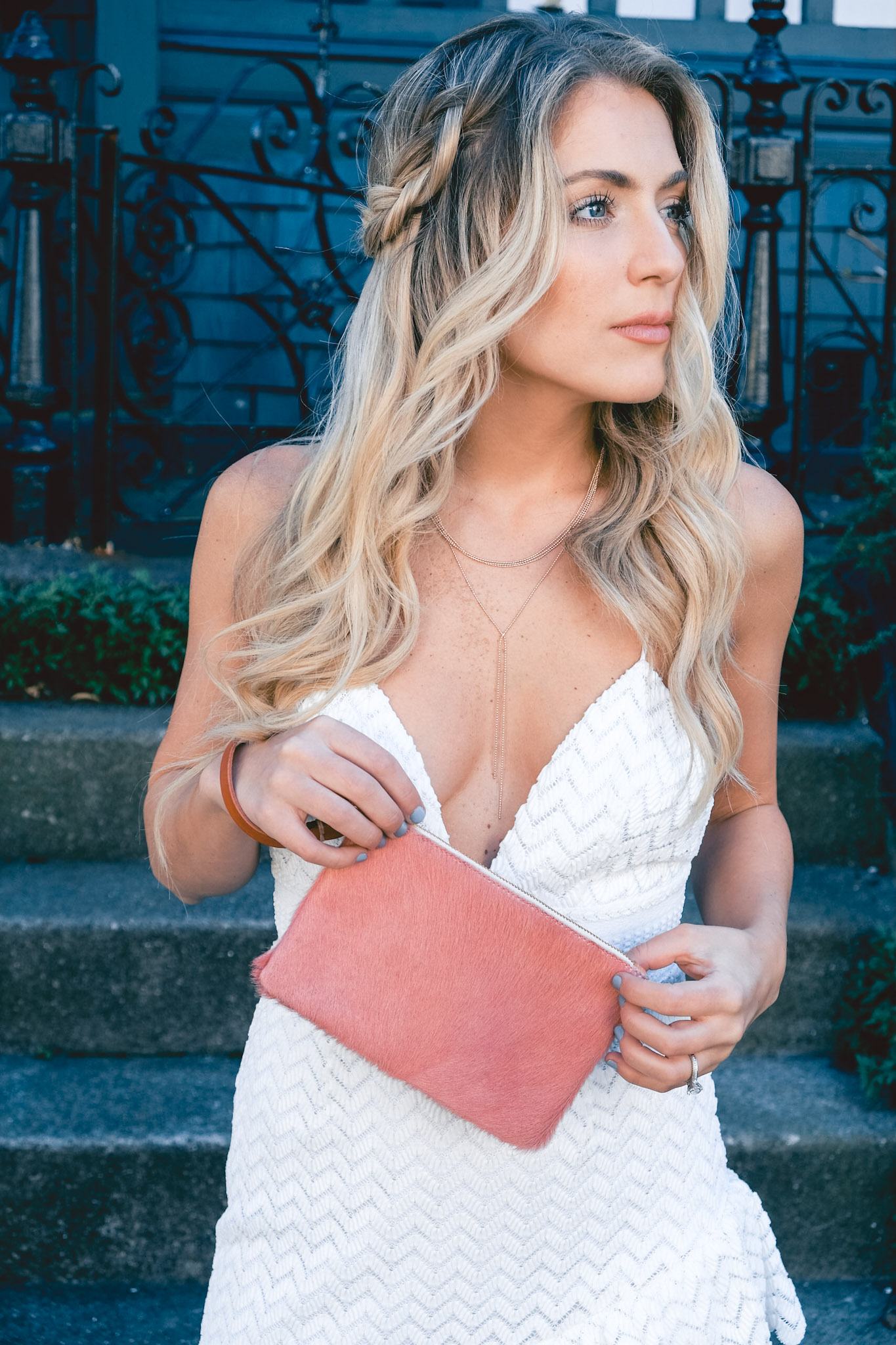 Shop My Look
So, I'm sure you are wondering what we are doing for our Valentine's Day date night. Well, this year part of Coulter's Christmas present to me was a trip to Tahoe. I had him postpone it, and now we are making it our V-day getaway! Bringing the little fur babies along and staying at the base of Squaw. So my date night outfit will involve a VERY large coat and some hot chocolate! BUT, I will be with the 3 boys I love most (Coulter, Prosciutto the mini pig, and Smooch).
I hope no matter how you plan on spending your Valentine's Day this year that it's a day filled with lots of love — and a ridiculous amount of sweets of course. If you have a S.O. shower them with love, if you don't shower yourself and your friends with it! Either way, love on yourself a bit this V-day, you deserve some extra love Feb. 14th!
With love
Chantelle, Coulter, Prosciutto and Smooch
With love,