We are having a baby!
We are officially becoming parents. We did it, and wasted no time. I figured I'd share our baby announcement, baby announcement video, and let you know that the blog now officially has a Mommy and Me section. Yay! I don't want to overwhelm IG with baby facts, but for anyone curious I wanted to journal about pregnancy and share the ups (and downs) along the way. This will be where that all happens, and I am so insanely excited about it!
First of all I will address the timeline, I get lots of questions since I'm 9 weeks pregnant but got married only 7 weeks ago. Here's how it works and something that can be a little confusing. At the doctors, they calculate your due date based on the first day of your last period, which was 2 weeks before my wedding day. Thankfully my period tracker apps tracked correctly. I chose my wedding day hoping to not be on girl time. Thank goodness that worked out. All that to say, we probably got pregnant a few days after our wedding day, as that's when the tracker said I was ovulating.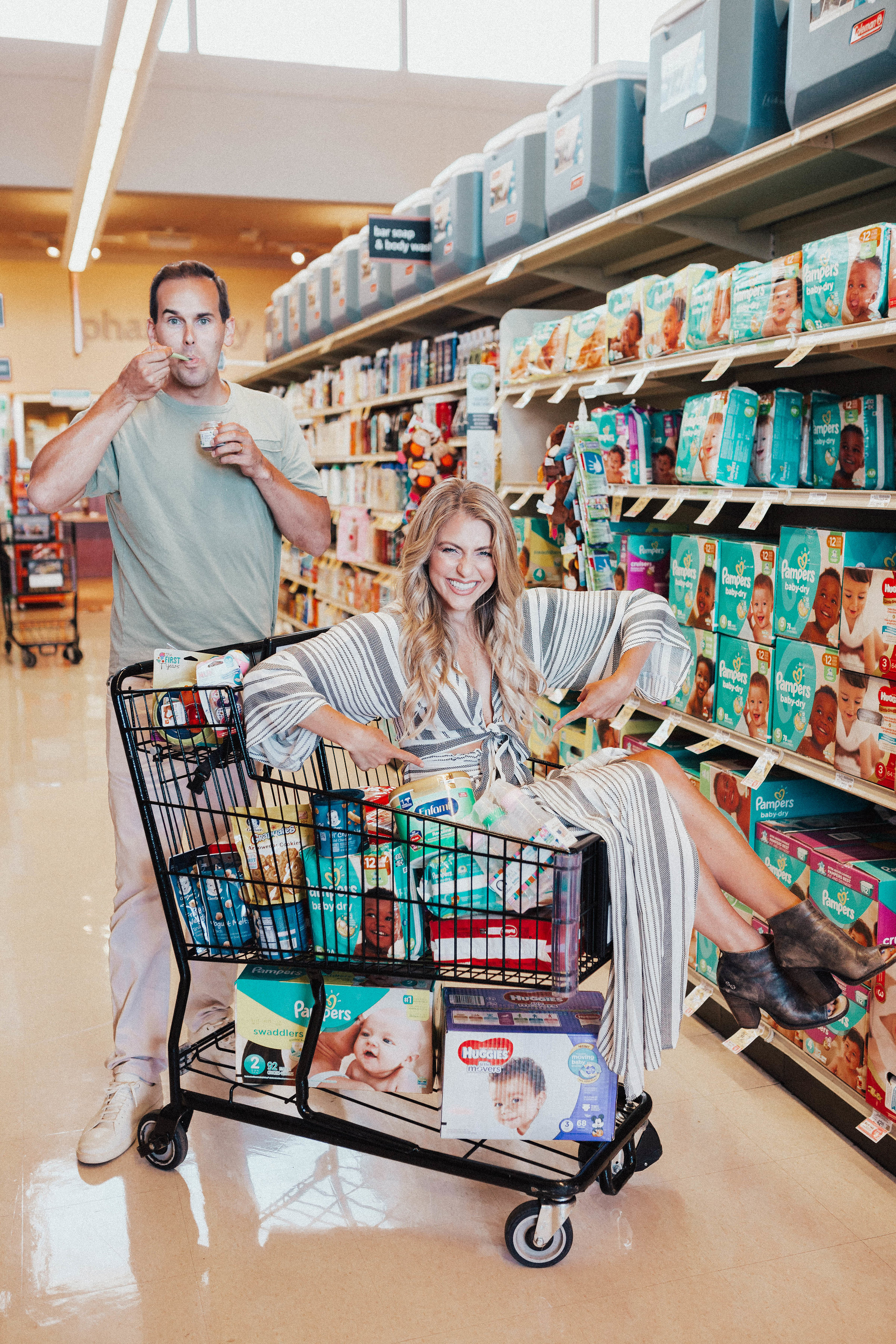 Okay, now for the day I found out. May 27th, 2018.
To be completely honest, after the excitement of the EPT letting me know I had a mini human growing inside of me, I had a moment of sheer panic. YES, I'll admit it. I panicked! I'm sure not all moms have this moment, but I'm positive I'm not alone. After the baby buzz news fades, you sit down and realize that you have only 9 months of selfishness left. It's a mind-boggling thought, at least for me. I will never again be thinking of only my wants and needs. Yes, married life is very similar but at the end of the day Coulter, my hubby, can fully take care of himself (well he can 80% take care of himself). A baby though, that is forever changing. So, if you're like me and had the moment of panic, I just wanted you to know… you are not alone!
The optimist in me however always finds the positive. I have four sets of grandparents who will adore this baby and help, an amazing husband who gets to work from home a lot, babysitters are always available for hire, and at the end of the day, I can and will continue to follow my passions. I don't have to stop working if I don't want to. I can keep being selfish, sometimes when I really really need to. And at the end of the day, I realized that not much would change, I would just have a little buddy to do everything with (although the amount of time it takes to do things will be exponentially longer!).
I am SO excited to have a mini-me/Coulter. I am SO excited that my life IS indeed going to change. I am SO excited to become a mommy. It's such an amazing and fun time.
Now for more realness.
I didn't realize just how tired you are during your first trimester. OH. M. GEE. I've been lucky with having light bouts of morning sickness, my sister was sick daily. I do feel nauseous often but realized eating little bits and keeping my stomach "coated" helps. Due to this, I've already gained 5+ lbs because of this new found need to constantly eat. Oh well! Plus did I mention the insane bloating? BYE JEANS! Next up is the sleepiness, you basically find out there's nothing you can do but embrace it and sleep and relax more. I'm still trying with that one.
At the end of the day, my body is doing something extraordinary. I am growing a human! Of course I'm sleepy, nauseous, lethargic, hungry, and all the other amazing 1st trimester symptoms. I'm taking the ole' "if you can't beat em, join em" mentality and embracing it.
Coulter is ECSTATIC, he talked me into having a baby FAR sooner than my original timeline. I suppose it's not the norm for the guy to be convincing the girl to hurry up and have kids, but we live in a very feminist age so I loved it. He plays cool in this video, but he is GENUINELY far more excited than I am, with zero hesitations. It's adorable and inspiring and keeps me in amazing spirits… even when I'm throwing up or waking up at 1am, 3am, and 5am to pee.
We cannot wait to meet our little girl/boy! … and I am so excited to share this journey with any of you who want to come along for the ride. Be sure to keep checking back on the blog for more updates throughout my pregnancy and more behind the scenes into my journey to motherhood.
With love,
Chantelle Paige-Mulligan
With love,