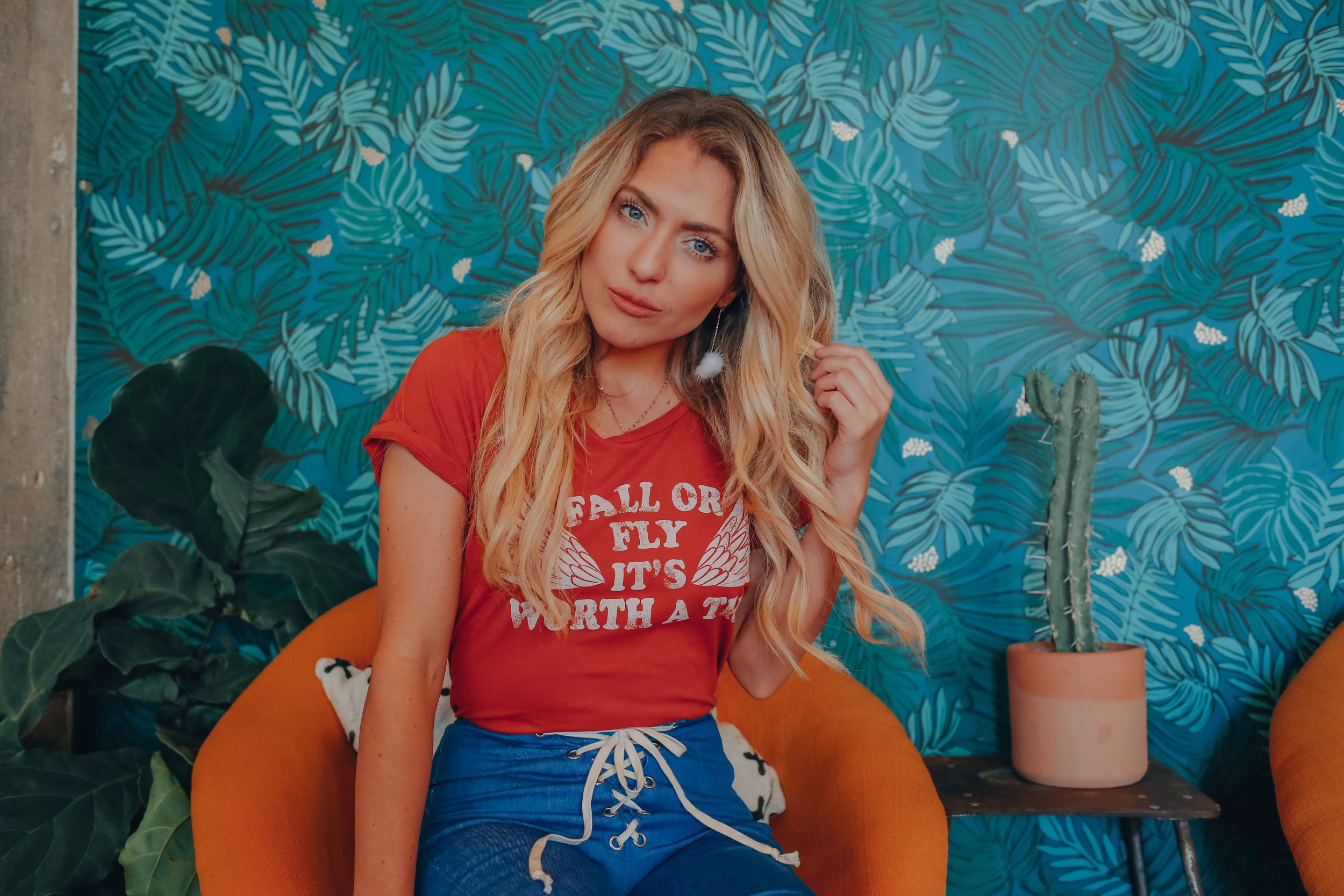 You've seen me rock her vintage-inspired, female empowering, killer t-shirts on Instagram but what you probably didn't know is that Dani Nagel, the founder and artist behind Dazey LA, is a total woman-to-watch.
Over the year that we have known each other we've become friends and I have grown to not only admire her awesome designs, but also her work, talent and energy. That's why I wanted to take this chance to interview her during our recent coffee and content date on my trip to LA, so you could all get to know this #girlboss a little better! I'll be sharing my questions, her answers as well as my favorite photos from our shoot taken by Dani herself.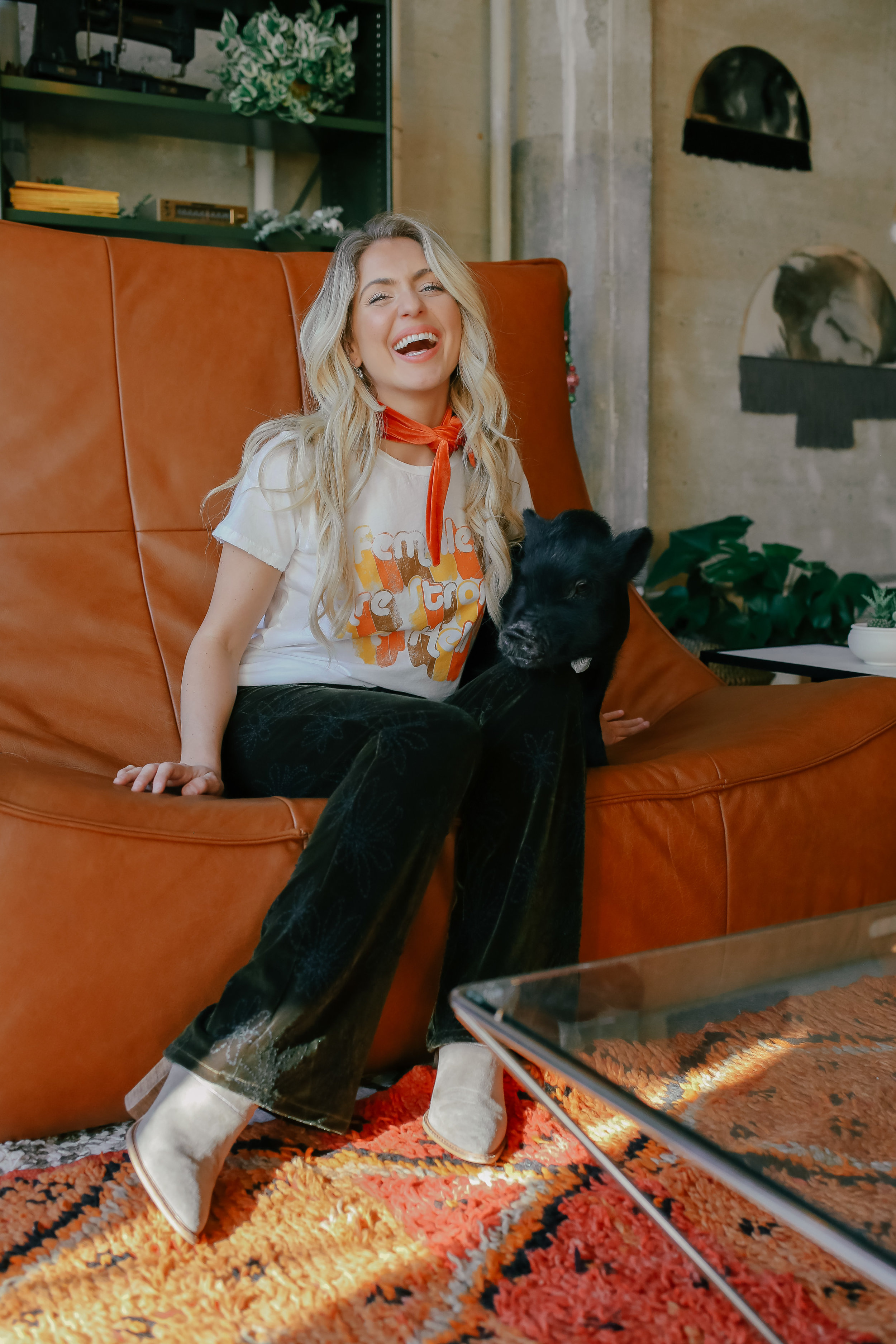 Tell us about Dazey LA!
Dazey LA is my art apparel line with a mission to empower women! The artwork and tees are all 70's inspired and I hand drawn all of them myself.
Most of the shirts have awesome girl power phrases right on them! We also carry other female-owned brands and artists in an effort to promote our fellow Girl Bosses. We want more women in business so we make a big point to celebrate and support that!
Another mission of our is to create guilt free fashion. We make every shirt just for you as you order it right here in LA! The "fast fashion" industry wastes so much fabric every year on cheap clothes that don't event sell, so we are trying to do the opposite by creating things in small batches or as they are purchased. We like to call Dazey a "slow fashion" brand! Everything is made ethically, locally, and with lots of LOVE. Our goal is to make people feel good about supporting Dazey because they know they are supporting so many good things!
What inspired you to start your own business? What made you decide to design Tees?
I have wanted to have my own clothing line since before I can remember! I had been sewing clothes for my dolls as a kid and decided I wanted to be a fashion designer when I was in middle school. I've also always loved drawing and art, my family is super creative so they really encouraged it.
I ended up going to school for fashion design, but it wasn't until i had an internship with a graphic tee company I realized that t-shrit design was a career option! It was a combination of two things I love, fashion & art! I designed for many corporate companies over the years including Urban Outfitters and Nordstrom just to name a few. Then I finally built up the courage to leave my job and start my own brand! Haven't looked back since.
Is it true that Chantelle was one of the first influencers you ever worked with?
Yes!! When you're a brand new company it can be really hard to get people to want to support you. A lot of influencers like to work with more established brands and us little guys still have a lot to prove. As we all know Chantelle has a big heart and was so so sweet when I reached out! She was kind enough to do a post just to help out my newly launched brand! As both of our brands grew we ended up meeting in person to shoot though our friend Nikia. Now whenever she's in town we try to meet up and get some coffee and content!
Did your shirts have a feminist undertone from the get go, or when did that become the backbone of Dazey?
At the very beginning I just wanted to make happy colorful tees! I have always had a feminist viewpoint and it wasn't long before I started to integrate that into my graphics. As it turns out so many women loved it and got on board to support! As I began to grow as an influencer and promote female entrepreneurship it naturally became apart of the brand. By showing my journey of starting a business it began to empower other women to start their own as well. It feels so good to have a mission behind what you do!
That incredible Youtube video you put together was was inspiring. What gave you the idea to make it?
It all started from a challenge we did on instagram! My past summer collection was called the "summer of Self Love" and celebrated learning to love who you are despite everything. We started the #shareyourselflove challenge asking girls to tell us about their self love journey, good or bad. The pure honesty and vulnerability that came from those who entered was incredible. It broke down barriers and let so many of us know we are not alone in our insecurities. I had to share some of the stories on video so we posted a casting call. Everyone you see in that video was casted a week before through that post. We could not have asked for a more incredible and diverse group of girls. The power that video hold is all because of them and their bravery in sharing!
Now, you've done swim suit and clutch collabs … What other fun #BossBabes endeavors have you previously done, are currently working on, or aspiring to do in the future?
We love collaborating!! Our goal is to break down the stereotypes that women should compete with one another and replace that with a spirit of collaboration and support. We have done printed headbands, swimsuits, clutches, soaps and more! We're currently working on one with an amazing yoga and athletic company called Wolven Threads!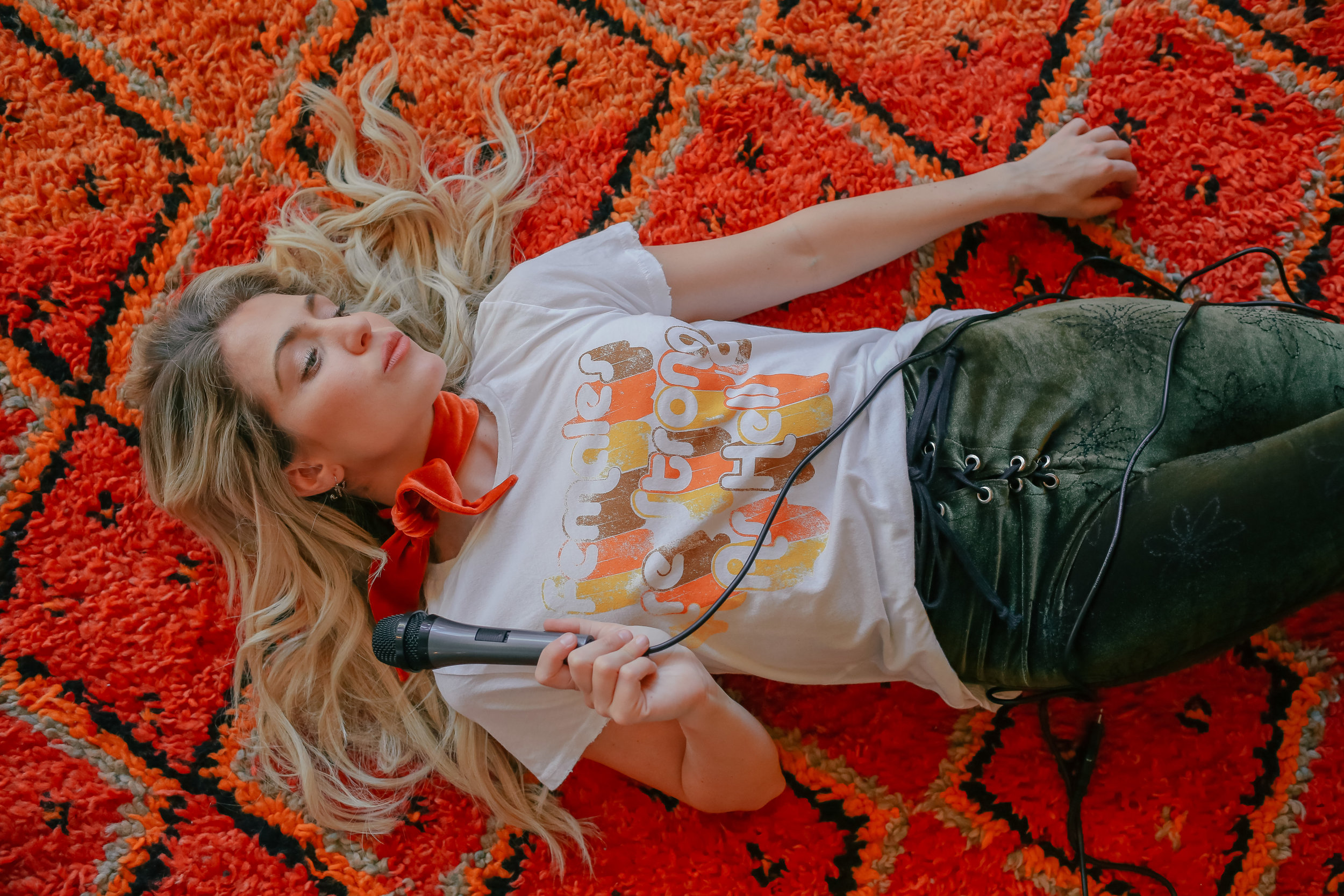 I know first hand what an incredible photographer you are! The fact that you shoot all your own content is phenomenal. How did you get started in photography?
I am totally self taught! I had a friend of mine show me the settings and I just kept practicing. I got a decent used camera and would set up shoots with whoever was down to play around. I knew when I was going to start my own brand on a budget I couldn't afford to hire photographers all the time so figured I would do it myself! I also used to blog was back in the day so that experience helped! But yes if you're naturally creative picking up photography isn't so hard!!
Speaking of photography, your boyfriend takes your pictures, right? …and, of course, Franklin (her dog) is the world's best Creative Director.
Ahh yes! It was a similar situation with him as well, just had a natural ability with a little practice. As I began to shift from Dazey just being a brand into a brand/boss blog I wanted to have more photos of me. He has already been taking outfit photos on my phone for years so I enlisted him! And wow it took to it right away and is amazing! I am so grateful to have such a supportive boyfriend. And yes our new puppy franklin is officially know as "Franklin the photo-bomber" because he loved getting in every shot!!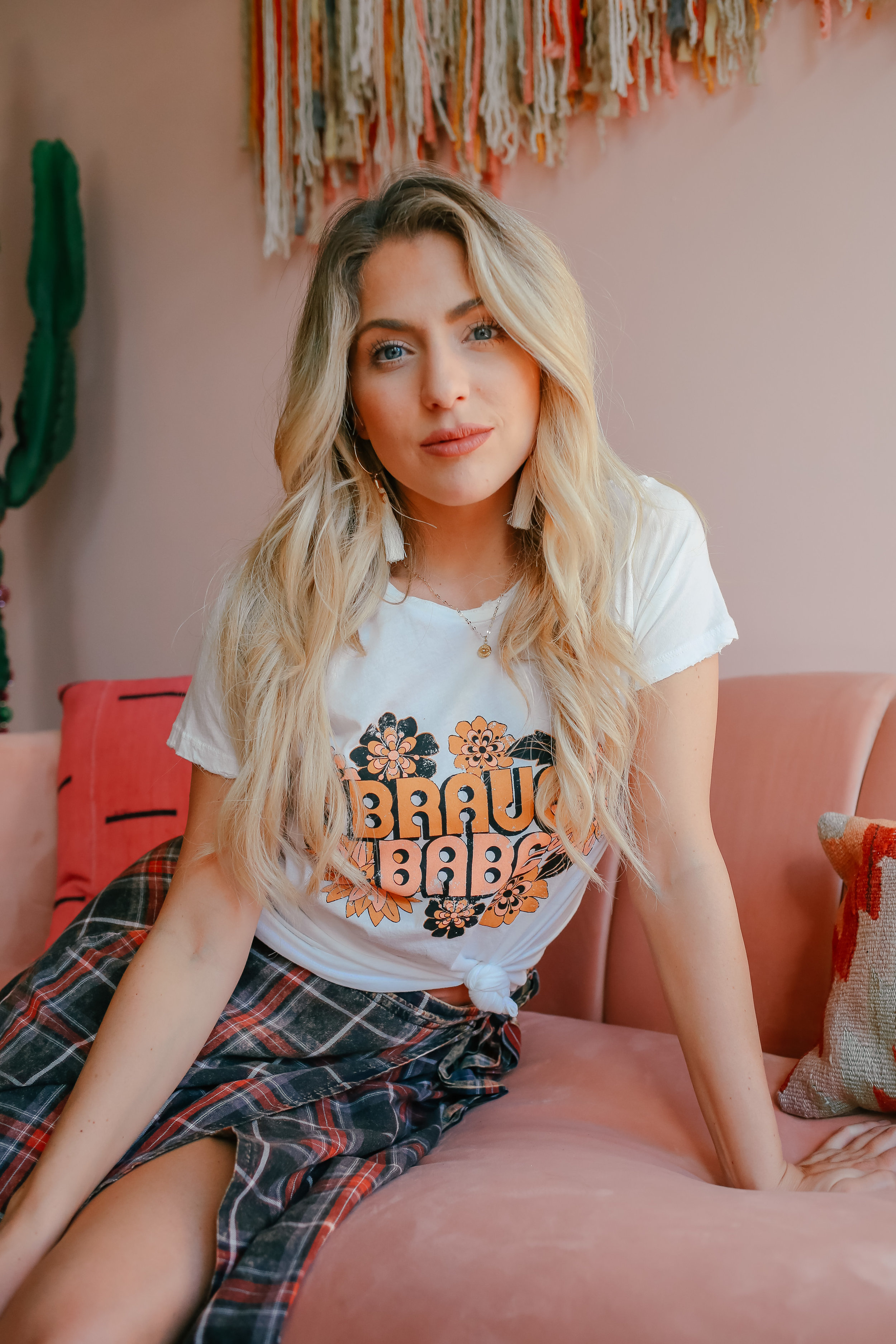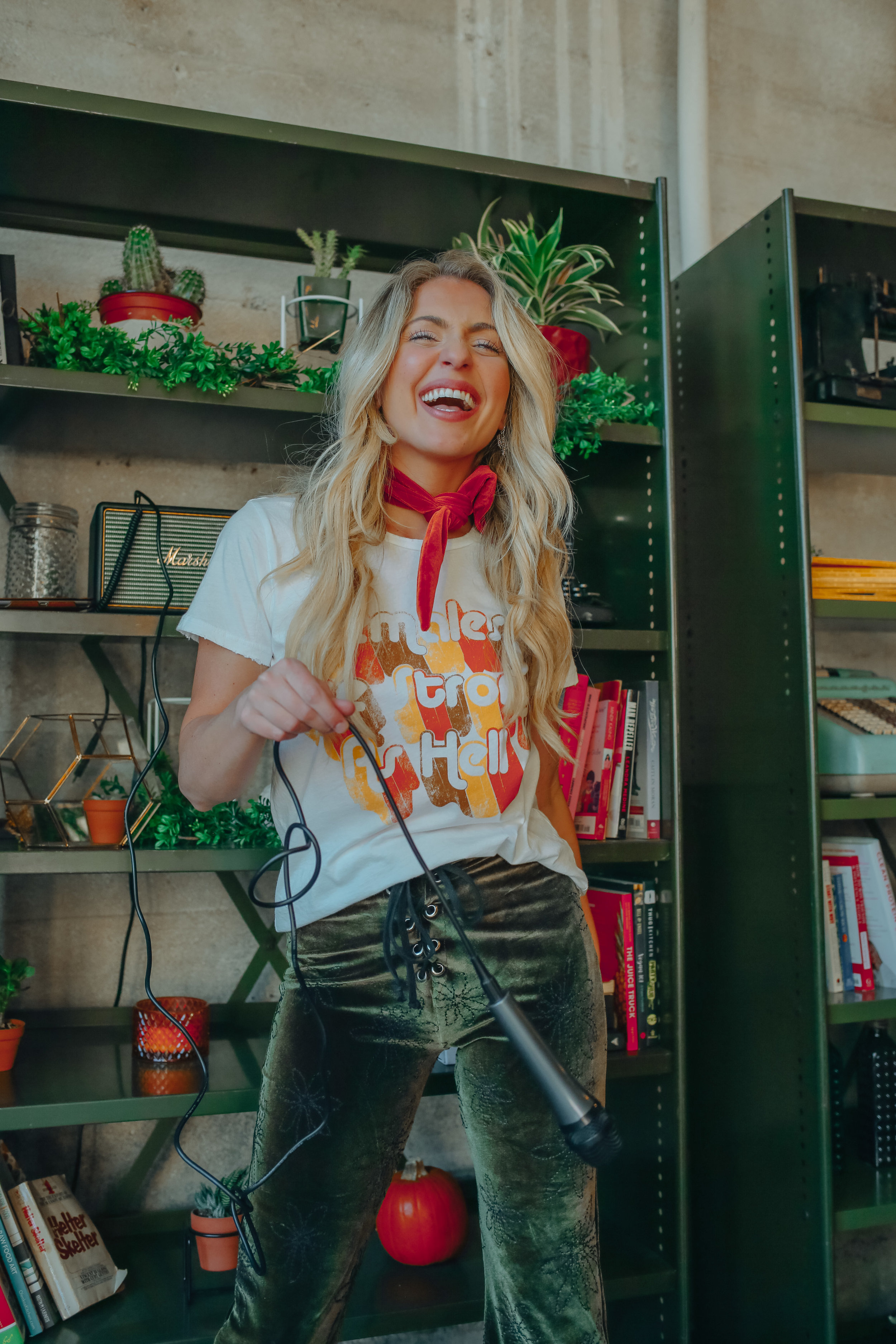 Alright, any artist has had a bartending, retail, juice shop job at some point. What were some of your hustle jobs along the way?
Haha SO TRUE!! I worked at buffalo exchange for a bit right out of school but that lasted a few months before I was fired for reasons I'm still not sure about lol. Then I took a graphic design class at a community college and had a slew of odd jobs after that. One of them I did cold-call telemarketing for pharmacy bag ads and then created the graphics. It paid horribly and was miserable. I also worked at a print shop cutting designing and business cards and flyers.
Where do you see Dazey in 10 Years?
I want Dazey to be the ultimate shop for female-owned ethical brands! Like the revolve of guilt-free fashion. I also want to expect the media side of things and really fill our boss blog with more tips, videos, and cool articles! I want Dazey to be the ultimate shop for female-owned ethical brands! Like the revolve of guilt-free fashion. I also want to expect the media side of things and really fill our boss blog with more tips, videos, and cool articles!
Would you ever do influencer collabs? (Wink wink, cough cough)
Haha yes totally! Been meaning to do some in the next year. Lets talk.
Since Dazey has such an inspirational, love more, feminist message… what are some words you have for the Dazey babes as well as the Bridge to Bohemians?
Above all believe in yourself and keep pushing. Life is full of ups, down, and uncertainty. Every bad thing that has happened to me or door that has closed has prepared me and brought me closer to living my dream. It took some time and life lessons, but now I do what I love everyday.
Be bold, be brave. Know what you want and ask for it!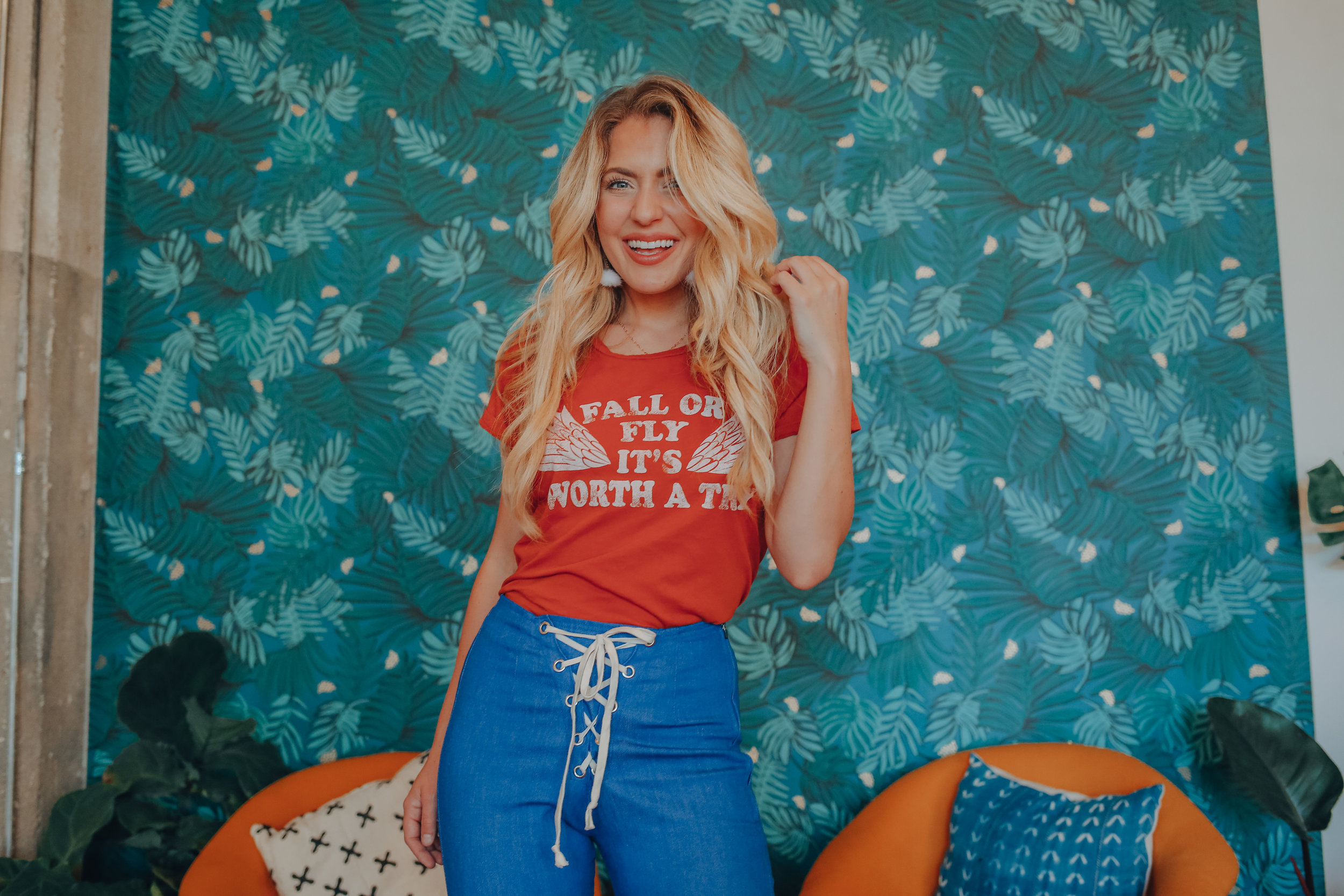 To purchase any of the shirts I'm wearing in the photos above and to see more on Dani Nagel head over to her shop www.dazeyla.com and follow her @dazeyLA on Instagram.
With Love, Chantelle
With love,