What exactly went into my bridesmaid's and groomsmen's gift bags?
I wanted to show my appreciation for these boys and babes with tons of products to make them feel special on our big day.
For the Gals
While in the middle of a wedding everything seems so revolved around me and my soon to be hubby I wanted to be sure to spoil the people taking their time to celebrate with us! I decided to put together these fun boxes for the bridal party, our parents, and our siblings. It was a little mixture of things I love and use all the time, like Invisibobbles and Bling Wipes, and things they might need during the wedding, like Essie nail polish, Storybook Cosmetics makeup (btw this is my friend of 12 years company!!! WOOHOO), and dry shampoo. I also included a little something extra from my friend's beauty company Storybook Cosmetics. I put it all into an amazing Bridezilla inspired bags by The Wedding Chicks!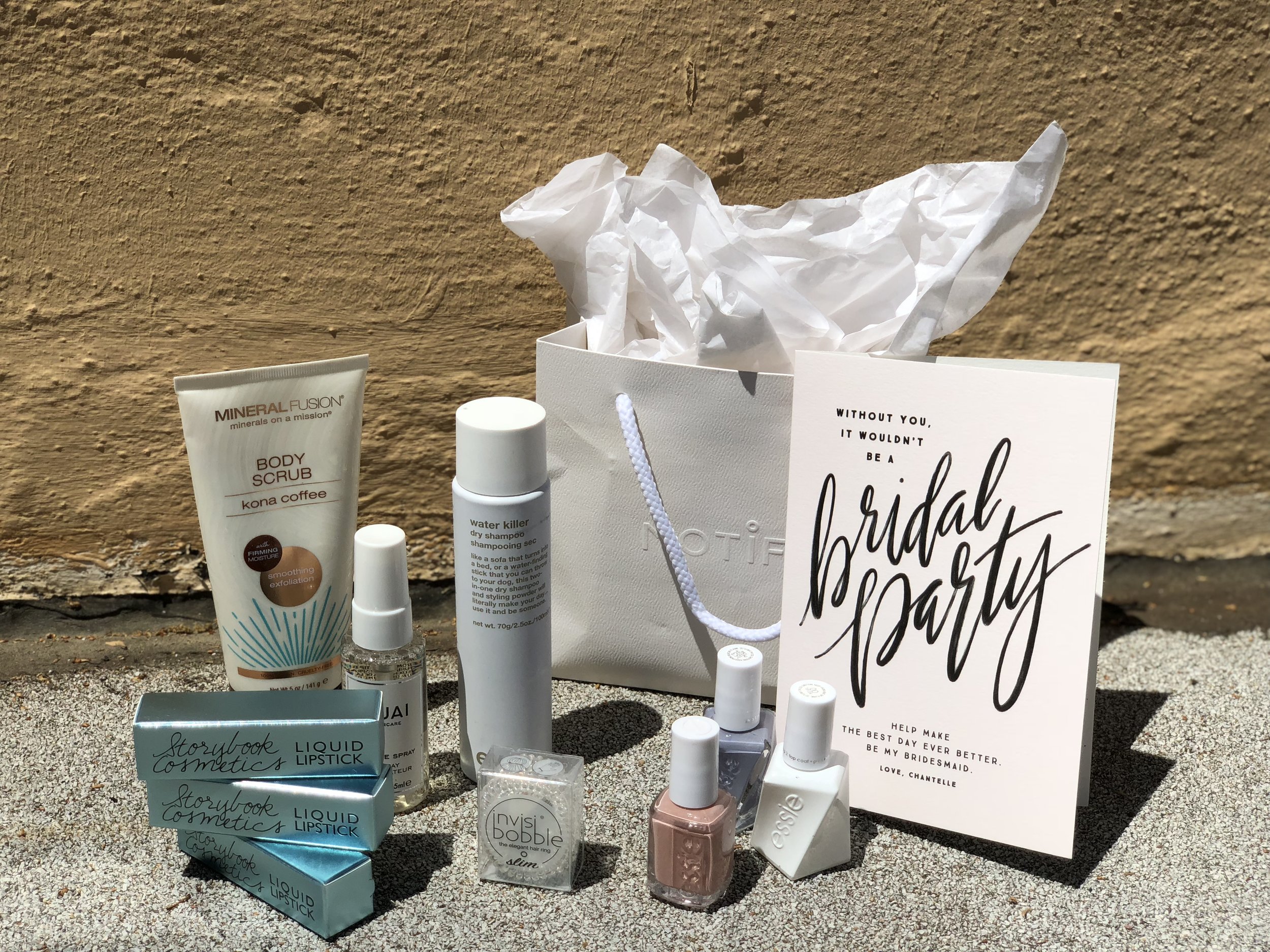 I also, included a necklace I had designed with Motif. It's a locket that comes in silver and rosegold (I included the rosegold) that says Sister, Bestie, Mother, Daughter, or Lover. I gave Mother to my mama + my soon to be mother-in-law, Sister to my sissy Savannah Labrant and sis-in-law Lisa, and the Bestie to the bridal party! If you want to buy your own locket click here!!!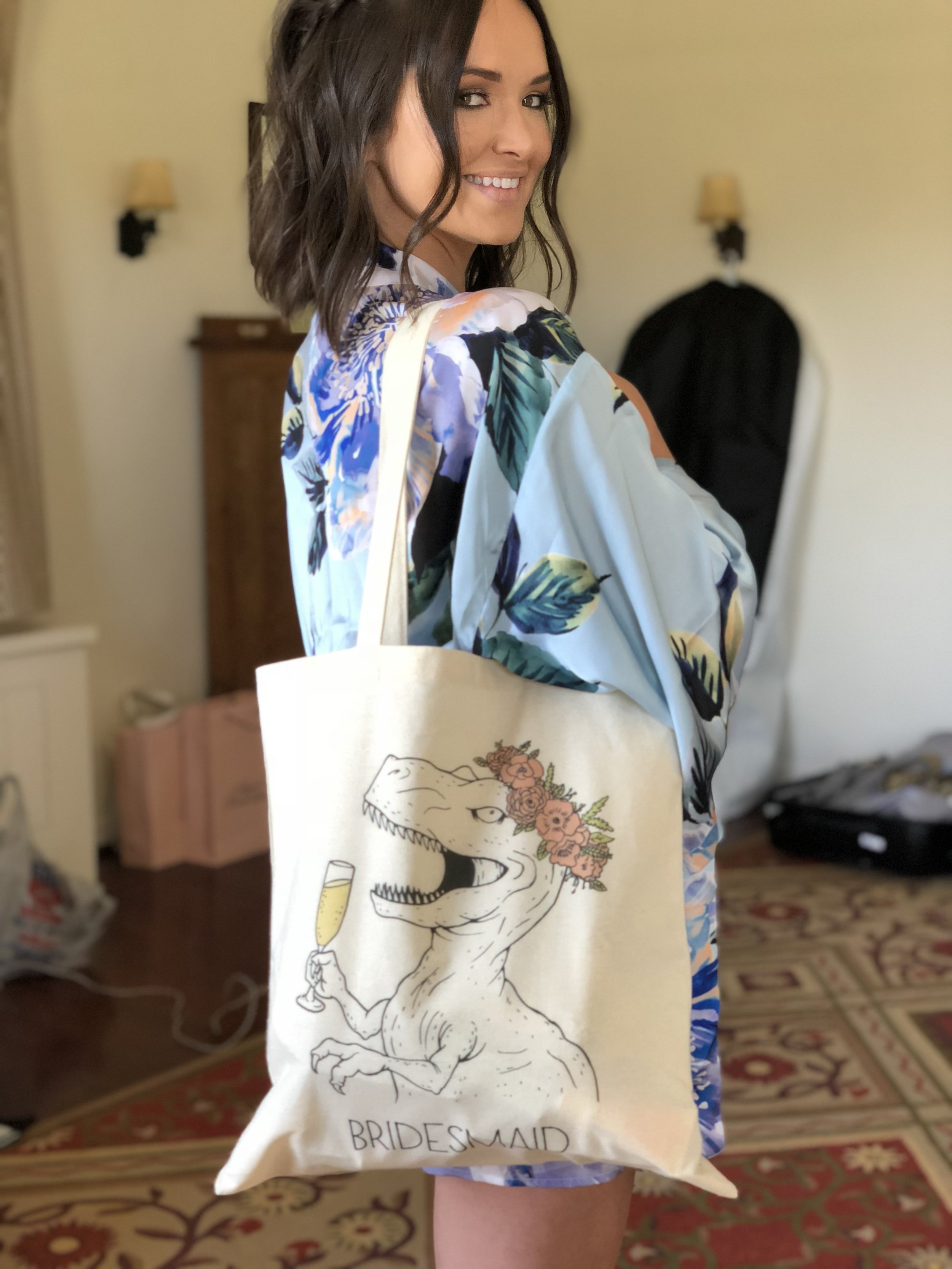 1. Liquid Lipsticks (Storybook Cosmetics)
2. Hair ties (Invisibobble)
3. Nail polish (Essie)
4. Dry Shampoo, Shampoo and Conditioner (Evo)
5. Body scrub (Mineral Fusion)
6. Necklace (Motif X Chantelle Paige)
7. Jewelry Wipes (Bling Wipes)
8. Makeup Brushes (Storybook Cosmetics)
9. Highlighter (Amazing Cosmetics)
10. Chapstick (EOS)
11. Eye mask and Misc Goodies (Behrman PR... PS thank you guys so much for the goodies!)
---
For the guys
For the guys, I gave them some love from The Tie Bar…. socks + belts (we also gave the guys all shirts and ties). Plus EOS for those chapped lips, some skincare love, and a few other goodies you can see below 😉
1. Belt + Socks (The Tie Bar)
2. Chapstick (EOS)
3. Misc. Goodies (Behrman PR)
4. Hair Products (Oribe)
Shop this gift guide:

Oribe Rock Hard Gel, 100ml • Oribe • $42
Oribe Surfcomber Texture Mousse, 175ml • Oribe • $39
Oribe Thick Dry Finishing Spray, 250ml • Oribe • $42
The Tie Bar Dot Silk & Linen Tie • The Tie Bar • $19
Amazing Cosmetics Illuminate Primer Highlighter • Amazing Cosmetics • $35
Slip®; Silk Bridesmaid Eye Mask • Pottery Barn • $49
Invisibobble Silver Original Bobble Hair Pack • Missguided • $11
Storybook Cosmetics Secret Garden Brushes • $60
Storybook Cosmetics Liquid Lipstick – Romance (dusty rose matte) • $14
Storybook Cosmetics Secret Garden Eyeshadow Brushes • $55
Essie Nail Lacquer – Ladylike • Essie • $9
Essie Nail Lacquer – Fiji • Essie • $9
Essie TLC Nail Lacquer – Pinked to Perfection • Essie • $10
Mineral Fusion Skin-Renewing Facial Scrub • Mineral Fusion • $14.99
Evo Bride of Gluttony Volume Conditioner (For All Hair Types, Especially Fine Hair) • evo • $25.50
Evo Gluttony Volume Shampoo (For All Hair Types, Especially Fine Hair) • evo • $25.50
eos Visibly Soft Lip Balm – Pure Hydration – 0.25oz • EOS • $2.99
eos Shimmer Sheer Pink Lip Balm – Women's • EOS • $5.99
PS. BIG thanks to Minted for the amazing cards! I was obsessed and they made it so incredibly easy. Also, thanks to Behrman PR for the help with all the girlie goodies.
The goodie bags were hits! I was ecstatic to show my friends and family how much I love them and how thankful I was for them being part of my big day. I highly suggest putting these goodies together for either your way to ask your bridal party to be in your wedding, or do it like I did where you're thanking them the day before for saying yes months prior. There is no wrong way to show your appreciation to the people you chose to stand beside you on your wedding day. I hope this helps give you all tons of gift bag ideas.
With love,
Chantelle
With love,