Mommy Monday Week 7
Let the (poop) games begin!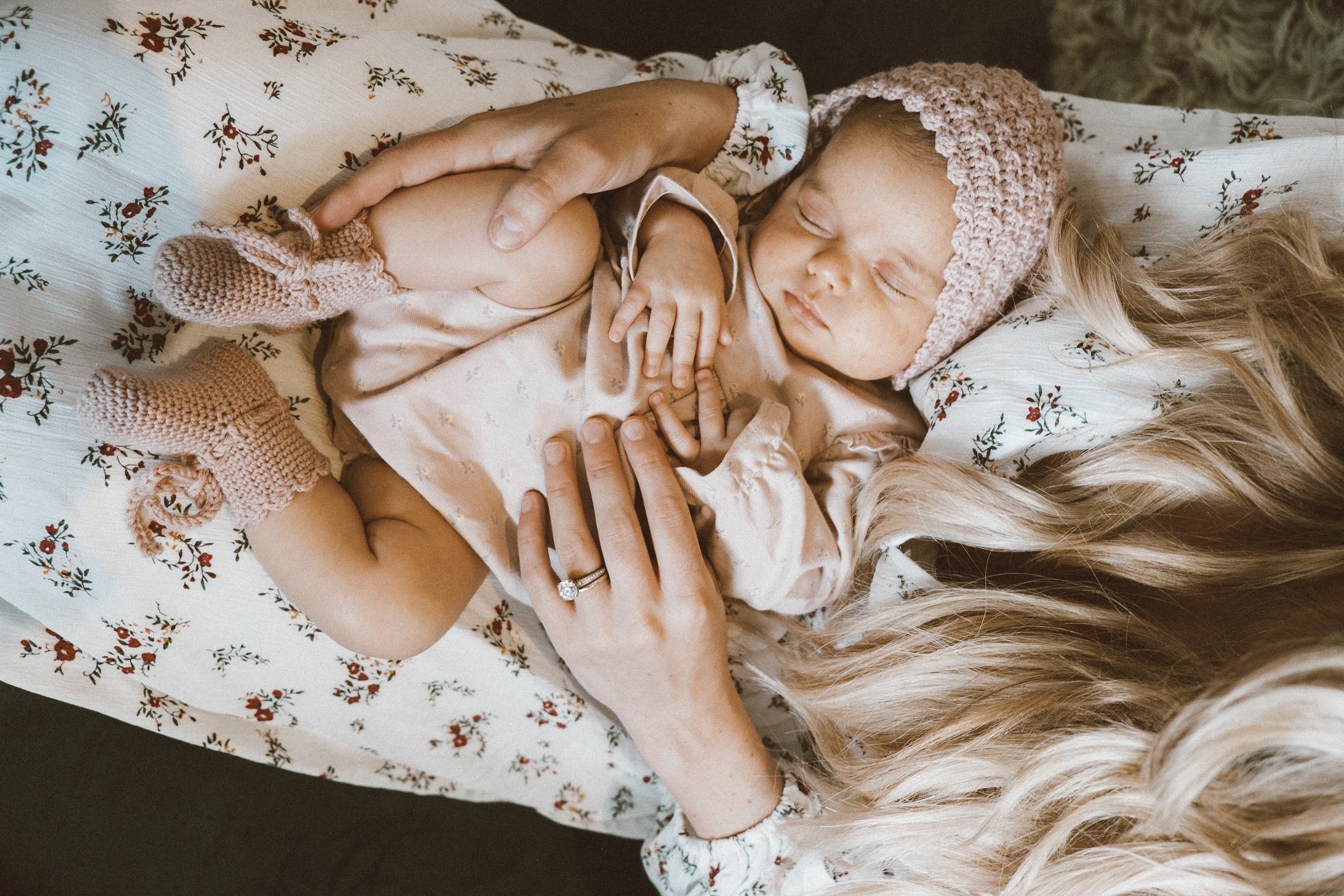 Let the (poop) games begin!
There I was: fresh out of the shower sitting on my bed, staring down at Senna's sweet little face as she ate (for the second time in 3 hours!). Then, I felt something warm trickling down onto me. Yup, the poop strikes again! Did I mention I hadn't gotten fully dressed yet and was just in my bra and underwear?
My poor sheets…
Luckily this happened yesterday, on a Sunday, so my husband was home. I yelped and he came running in to take care of her diaper situation. I had tried a new diaper that a company sent me (the same diaper that had leaked pee all over me previously), and let's just say I'm going back to Honest diapers from now on! Coulter took care of the explosion that had leaked everywhere, and I hopped back into the shower and then sprayed Oxiclean ALL over my poor sheets. A friend had told me about Oxiclean and it's magical ways of getting rid of the yellow-y stains (sorry for the lovely picture I just painted!), but it really, really works (not an ad, just love this product!).
Link to some of my favorite mommy products on Amazon, HERE!
Smiling While Eating 🙂
On the upside, she is smiling SO much more and she's very alert! I just took a mid-blog breastfeeding break and she locked eyes and smiled at me while in the middle of eating. I sat there with the biggest grin on my face for a solid 5 minutes. Similarly, my husband got his first direct smile the other day. He walked in the room to grab her from me and she looked at him and lit up with the biggest grin, he literally got teary eyed. It was precious!!!!
Going Through a Leap
All the smiles and alertness came during a leap, of course! For those of you wondering about leaps and when they happen, this app was recommended by a few friends to me and I am OBSESSED: The Wonder Weeks. With this leap came a lot of snuggling time because she didn't want to be set down! Also, a new thing happened where instead of subtly letting me know she's hungry and warming up to a cry, she now just burst into a full blown, panic cry. This happens the second she realizes she's hungry and decides that she needs to eat RIGHT NOW! This is incredibly fun while in public 😉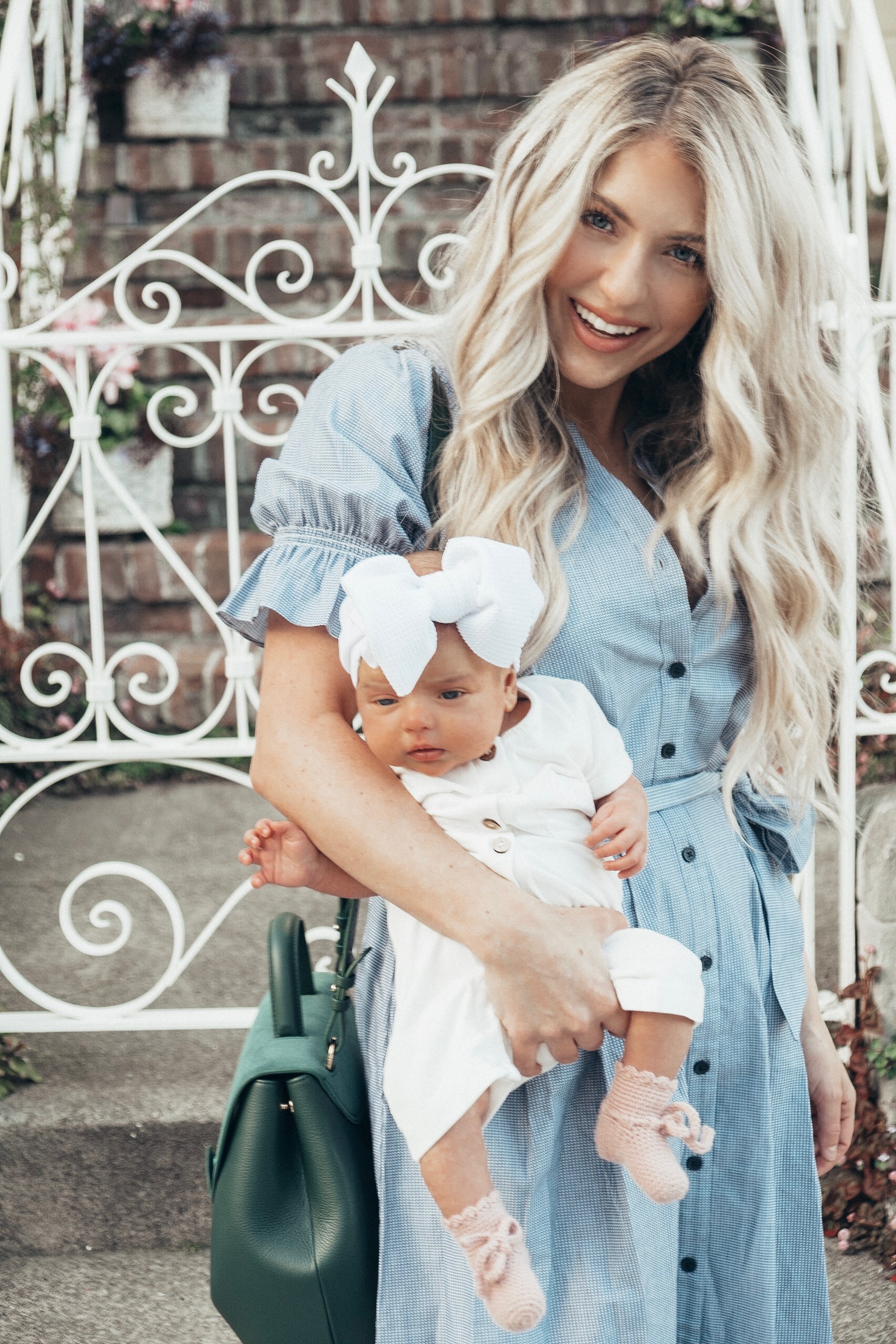 This Swing is My Everything!!!
The only thing that has kept her occupied for longer than 20mins is this swing. Savannah, my little sister, told me about it and it's seriously been saving our life. We just bought a second one for Coulter's den so we didn't have to move it around the house (Savannah got these exact two swings as well). Needless to say, we are in love with these swings, and hopefully your baby will love them too!!!
The other thing that she is in love with is the arch that goes over the Dockatot. She sat smiling and cooing at it forever the other night. It was the sweetest thing, I just sat there and watched her stare at it in awe as my heart completely melted!!! 😀
Next week I'm going to try and tell my Labor and Delivery story!!! Stay tuned!
With love,
Chantelle
Want to Shop This Look? More details here.
With love,
Chantelle Paige-Mulligan
With love,